1962 Jet Goes Solo
For this particular Shadowmaniac, 1962 kicked off quite well and ended on a very high note, but in the meantime there was Merry Hell!
The Shadows looked happy enough in Paris as they arrived to play at the Olympia.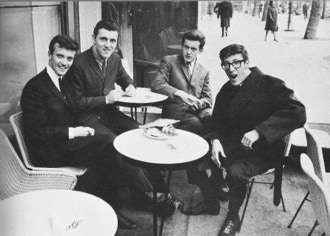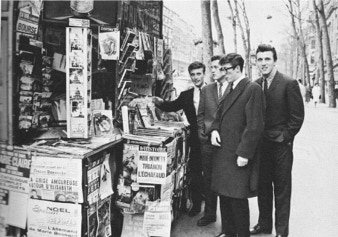 And Brian sounded at home at Cliff and The Shadows' appearance at the ABC Kingston in March.
The Shadows Live at the ABC Kingston Apache Shazam medley
But there was trouble brewing for The Shadows and their much-appreciated manager, Peter Gormley. Says Brian: "One of Peter's first questions to me on joining the group was, 'Do you drink?'"
When Brian said that he enjoyed a few beers now and then, Peter told him, "Well, don't get involved with Jet." 
"When I first met Jet in Blackpool," says Brian, "the first thing he did was ask me out for a drink!" Brian suggested that they went to a pub along the front, but Jet replied, "No, can't do that, Bruce will see us" and he led the bemused new boy to the gents' toilet, where he pulled a couple of cans of beer from under his coat and explained, "Bruce hates drink – he goes potty if he thinks I've had too much." Brian now found himself caught in the cross-fire as the exchanges between Bruce and Jet became more heated. Says Brian: 
"Jet would have a few brown ales and it would all be over. He'd get a stream of verbal from Bruce and go on stage in a really black mood. As soon as Bruce was looking the other way, Jet would look back at me on the drums and mouth, 'The effing bastard,' to which I'd just shrug my shoulders and raise my eyebrows. I couldn't afford to take sides, but it got pretty awkward sometimes, especially when he got really low, and dressing-room rows would end with Jet in tears. He'd be the first to admit, now, that things couldn't really have carried on the way they were." 
We know now, but none of us knew then, of course, that Jet's alcoholism had started to get its grip. 
Jet had already been a serious embarrassment, falling off the (luckily rather low) stage during a performance of Shadoogie at the Cavern Club in Liverpool. He was, according to Bruce, "smashed out of his head… As Hank helped him up and back on to the stage, I apologised to the audience. 'I'm very sorry, Jet's not very well,' I said. It didn't work. Some Scouser in the audience yelled back, 'We know, mate – he's pissed!'"
At one point Hank and Bruce offered to stop working for three months so that Jet could attend a special clinic to cure him, but Jet refused. He blamed the breakdown of his marriage for it all and denied that he really had a drinking problem.
"So," continues Bruce, "Hank and I had one of our meetings and decided it was in the best interests of everyone if Jet left…We were appearing at the New Musical Express poll winners' concert on Sunday 15th April 1962, when we broke the news. As usual, we found Jet propping up the bar in the artistes' enclosure backstage. He was well on his way to alcoholic oblivion. He was told that we didn't need his services any longer."
Was this altogether the best time to do this? At this concert, according to Jet's biographer, "they'd won in three categories: Cliff had been selected, 'Best Male Singer' with 18,006 votes; the Shadows had topped the 'British Small Group' poll with a massive 45,951; and Jet had won 'Solo Instrumentalist' with 20,955 votes. (Interestingly, Hank Marvin, who to many was the solo instrumentalist, didn't even make the top three.) On this occasion The Shadows were also presented, somewhat belatedly, with a gold disc for sales of Apache." 
There are various versions of these events, but in Mike Read's 1983 Story of the Shadows, Jet's account goes like this: 
"… Bruce was pissing me off more and more – he was like a bloody robot. When Carol left me for Cliff, Bruce came out with a real classic line that really hurt me and has remained imprinted in my brain. 'What are you so worried about, Jet, she's only a bloody woman!' The crunch came at the NME poll winners' concert at Wembley… by the time I met up with the lads I'd had a few. Bruce turned on me with six little words. 'We don't really need you, Jet.' By then I'd had a bellyful of him. I walked out and never went back."
Mike Cook, a long-time friend of Jet's, says he retorted, "Well, I was thinking of leaving anyway, so sod you!" After that final performance Jet broke down in tears and was gone.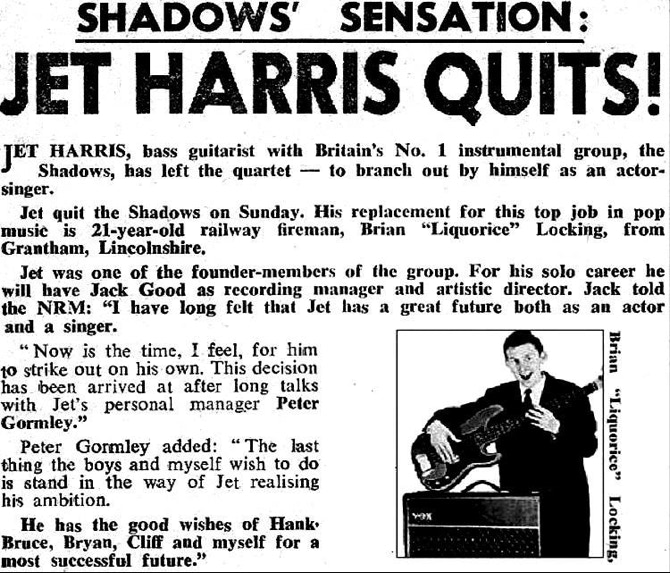 Not a breath of scandal was ever allowed to reach the average fan of either Cliff or The Shadows. Had it done so, you would have heard not just the tinkling of breaking teenage hearts, but the thunderous collapse of everybody's career. As it was, the newspaper headlines were quite shocking enough.
Jet, it seemed, was leaving to pursue a solo career as a musician and actor, and was to be replaced by Brian Bennett's chum from the 2i's, Brian "Licorice" Locking, all this just six months after the departure of Tony.
Now I know Licorice is a nice bloke and a thoroughly capable bass-player, who had worked with Vince Eager and The Playboys, with Marty Wilde and The Wildcats, with The Krew Kats and Tommy Steele, and that he was, according to Bruce, "a very likeable, easy-going guy, and a good friend…he was always laughing. He had a smile which filled a theatre."
And I know that Licorice did a perfectly good job on his first Single with The Shadows, Guitar Tango, which had us all doing the Fandango in August, but, well, I didn't think much of the replacement idea.
I also know that Hank and Bruce were only 20 at the time, but even then, I would have liked to have misquoted to someone that famous line by Lady Bracknell in Oscar Wilde's The Importance of Being Earnest: "To lose one Shadow, Mr Worthing, may be regarded as a misfortune; to lose TWO looks like carelessness."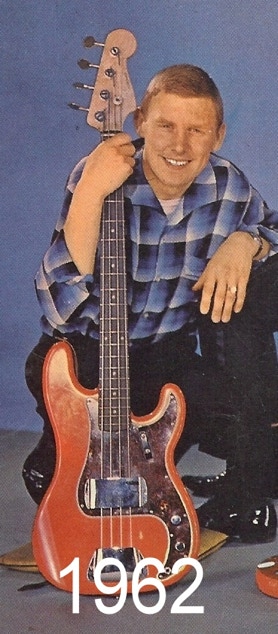 No one, absolutely no one, I say, was more delighted than I was when Jet Harris and Tony Meehan knocked the Shadows from the No.1 spot with Diamonds, their first Single as a duo, in January 1963. But I'm getting ahead of myself here.
People were nice to Licorice. His first major gig with The Shadows was at the British Songwriters' Guild charity concert, Our Friends The Stars, a very shiny affair, with many celebrities present. Says Mike Read: "The occasion certainly didn't overawe Licorice, as the press described him as 'confident and relaxed' and another critic remarked: 'Recent changes in The Shadows' line up have done nothing to dim the versatility of the group, for they were in top form.'"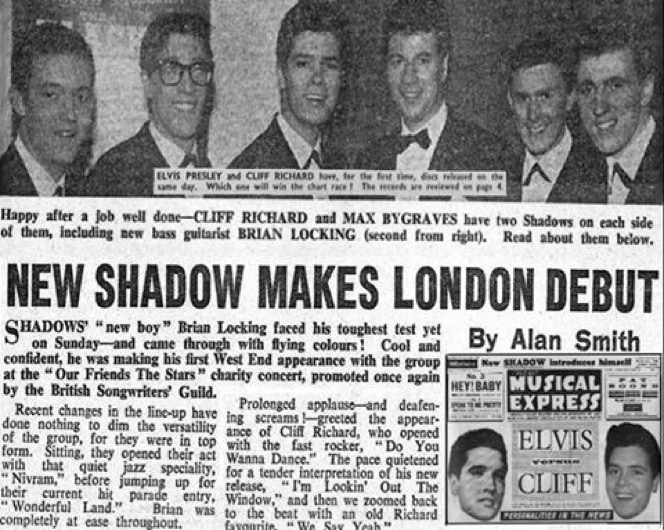 Licorice himself said that being asked to join The Shadows "was the greatest thing that had ever happened to me....The fans were extremely kind to me despite Jet's departure, which must have been a real shock to staunch supporters of the group, and made me feel at home in my new surroundings. I had stacks of letters in the first few weeks and was particularly delighted by one from an ordinary working family in Liverpool which welcomed me as a new Shadow and ended simply 'You're all right, son!'"
In the first instance, The Shadows continued at the top of their game. They headed off across Europe with Cliff to film Summer Holiday, which was released in January 1963. And, Oh, yes! We would all still adore watching Hank, Bruce, Brian and Licorice mucking about. We lapped it up, even though the plot was, if anything, even more unlikely than that of The Young Ones, and did involve the Shads, as I thereafter thought of them, dressed in the traditional uniform of the Greek Royal Guard…
Licorice Locking in Summer Holiday
Licorice et al. dancing to Bachelor Boy in Summer Holiday
There was just a little flak when the next Shadows' Single was the unusual acoustic Guitar Tango. In fact this had been first recorded with Jet, but the Single featured Licorice and made it to No.4. (It's a bit difficult to follow an eight week run at No.1…)
By November, the new LP Out Of The Shadows, on which some numbers featured Jet and some featured Licorice, was at the top of the LP chart; and in the EP Chart The Boys was also No.1 with 3 new tracks also composed by Hank, Bruce and Brian.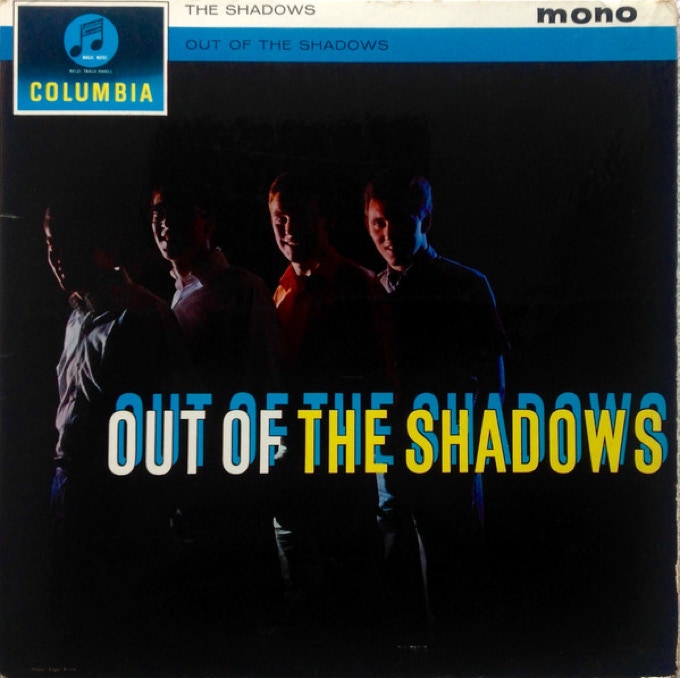 The Out Of The Shadows LP, on which it is not stated which track has Jet playing, and which introduces Licorice, has always been a bit of a puzzle for Shadowmaniacs. Thanks to one of the researchers in A Pocket Guide to Shadow Music, however, I am now able to construct the table below.
Featuring Jet
Tales of a Raggy Tramline
Some Are Lonely
Spring Is Nearly Here
Cosy
Perfidia
South of the Border
Bo Diddley
The Bandit (?)
The backing track for The Bandit was originally recorded by Jet, but the full album version may have been re-recorded with Licorice.
Featuring Licorice
The Rumble
1861
Little 'B'
Are They All Like You?
Kinda Cool
with later harmonica overdubs by Licorice
The Bandit (?) 
As far as The Shadows were concerned, then, the year ended with Licorice replacing Jet (can we be serious about this?) and The Shadows, now apparently a song and dance troupe as well, at No.1 again with Cliff's double-sided Christmas hit The Next Time/Bachelor Boy.
But meanwhile, to the delight of all Shadowmaniacs, Jet had decided to go solo!  
A few weeks after the disastrous NME concert, he signed up with Jack Good as his recording manager for Decca and Roy Mosely of the Delfont Organisation as his personal manager.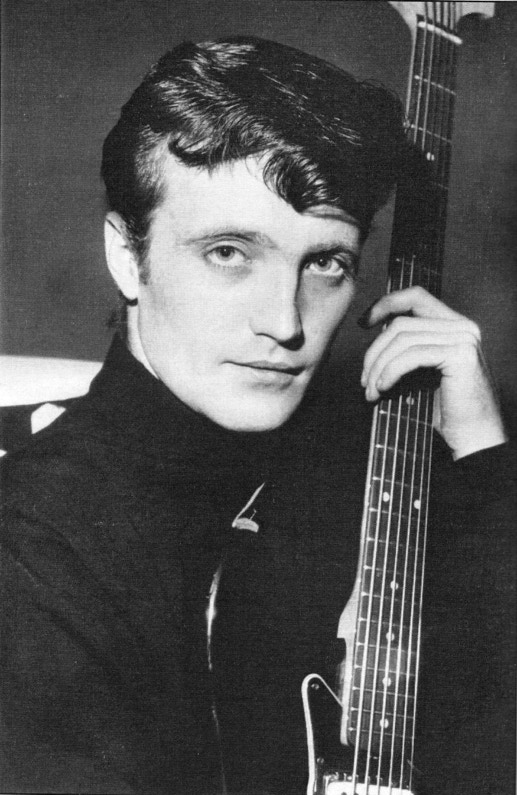 The mean, moody and magnificent Jet Harris, 1962
It wasn't as easy as it sounded for Jet to get back on the horse after that fall! Mike Cook writes: "Jet, although he didn't know it, needed the space to try and piece together his life, a life that had suddenly been turned upside down. His new live-in girlfriend, Billie Davis, was to see to that." Billie one day took a phone call from Jack Good from Decca, who suggested that Jet might like to go solo. "A solo bass player? The thought had never crossed his mind. It couldn't work, could it?…Jet thought that Jack must have something up his sleeve, and anyway, he had nothing to lose. The split from The Shadows had seemed like an eternity even though it had only been six weeks!"
Aiming for a cooler, adult audience, perhaps, Jet launched his new career with a gutsy single Besame Mucho, recorded in April and released in mid-May. At the time, Tony was also working as a trainee A&R man for Decca and, though none of us realised it, he accompanied Jet on drums on some of his early releases, including this one.
Jet Harris - Besame Mucho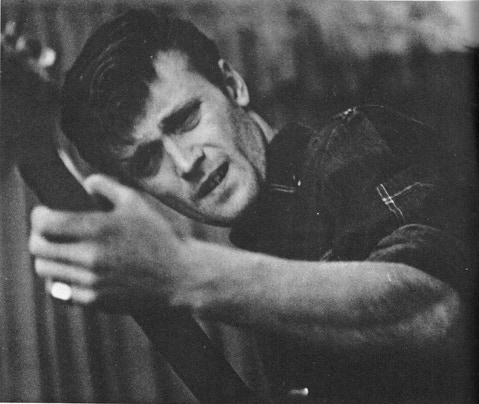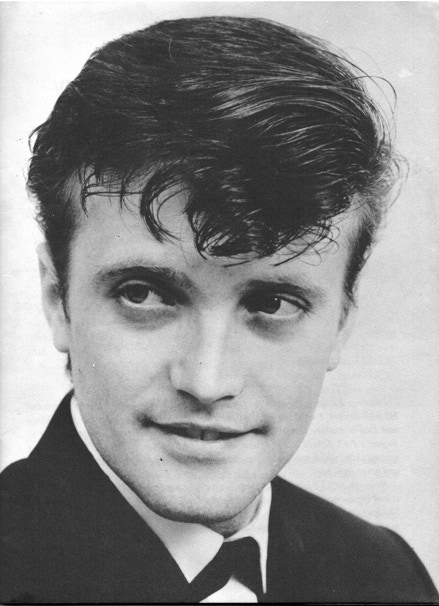 This was backed by Jet singing Chills and Fever, a song written by Thompson and Gray.
Jet Harris - Chills and Fever
Royston Ellis had previously written about Jet in these terms: "Undoubtedly, Jet Harris is the Shadow with the most sex appeal. His hungry look, dark, sunken eyes and fiery performance help him to coax screams from an audience with just a smile." And Bert Weedon, then still the UK's most revered solo guitarist, is quoted as saying, "I think he is wise to go solo: this way he is set to become a star in his own right."
Since it was also reported that Jet was keen to get into acting, there were rumours that he had been offered a part in an episode of No Hiding Place, a popular TV crime series, and that his film debut would be as the lead role in Tom Sawyer. In NME, Jet said: "We have two really hot film roles on offer at the moment…and taking lessons from Albert Finney's drama teacher is helping me tremendously…I'd like to go for the moody roles – that would give me a chance to be myself, because people are always telling me that I'm moody. But I don't mean anything as drastic as the James Dean–Marlon Brando type of parts. They're too way out for my liking!"
Meanwhile, on Besame Mucho Jet played lead on a six-string bass guitar. The disc was an immediate hit, but only got to No.22 in the charts, where it lingered for a total of 7 weeks.
Jet was pleased, all the same. He said, "I think that we could have picked a better number, but for the fact that we were pressed for time…The public haven't heard half the sounds that this instrument can produce, and I think the bass guitar is going to mean a lot to them. It's a mean sound that the boys will go for more than the girls…"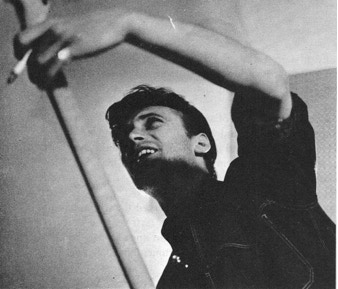 Jet's follow-up Single in August 1962 was called Main Title Theme from 'Man with the Golden Arm', and was a striking and powerful version of the theme tune from the 1956 Frank Sinatra film. It also featured Tony as an uncredited session man on drums.
Main Title Theme – Jet Harris
This reached No.12 in September, and a tour visiting at least a dozen countries was proposed. Jet formed a backing group called The Jetblacks, 
which had Barry Lovegrove on guitar, Dave "Quincey" Quickendon on tenor saxophone, Glen Hughes on baritone sax, Mick Underwood on drums and Terry Webster on second bass guitar and harmony vocals.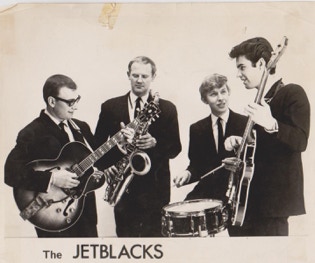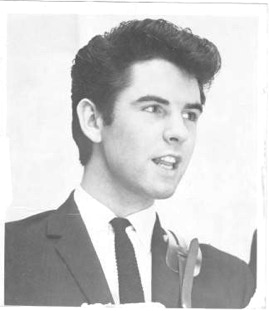 For some truly fascinating accounts of life on the road with Jet at this time, it's well worth visiting Terry Webster's website. Click here!
Jet was booked for a 21-day nationwide tour in October, which also featured Sam Cooke and Gene Vincent.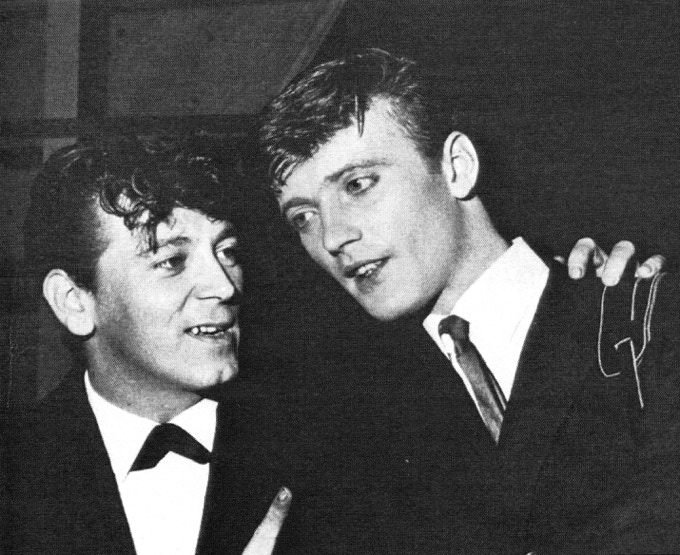 Jet with Gene Vincent in 1963
However, says unofficial biographer Dave Nicolson, "Jet was still drinking heavily. Plagued by pre-stage nerves throughout his career, he had probably failed to realise that standing out in front as the star of the show would be considerably more stressful and uncomfortable than standing behind one as part of a group. It is a change he found difficult to adjust to, and it probably increased his reliance on alcohol."
Around about now, I saw Jet live at Wallington Public Hall, which was virtually on my way home from school. Teeny-bopper friends, who were still loyal fans, accompanied me to the gig and, because it was a fairly intimate venue, we were able to get very close to the stage. Jet, in tough-guy black leather, still had a lighted cigarette tucked under the strings as he played; and mean and moody he did look as he tackled tunes with these adult themes, but I've got to say that, even to me and even then, he also looked a bit wrecked, and − dare I say it? − a little bit too grown up for us.
What's more, Jet's gentle, reedy voice (the sound of which he hated, by the way) on the B sides of his singles, belied the gritty James Dean-style image that he seemed to be pursuing. Some People (a track taken from the film by the same name) was a bit more "dancey" but, really, it was all a bit, well, disappointing… You couldn't bop about the bedroom very easily to this, although I can't say I didn't TRY.
This video clip from the 1962 film Just For Fun illustrates the kind of image that was being cultivated for Jet.
The supercool Jet went down well with the general public.
Then, towards the end of 1962 – was it 6th November? − something rather wonderful happened. Tony Meehan, apparently the forgotten man of The Shadows, appeared on the kids' TV programme Crackerjack, being berated by Eamonn Andrews for the fact that his fans were still desperate to see him and what about it?
Now, I'd never heard Tony speak while he was a member of The Shadows: I'd never heard his voice. The London accent with soft Irish overtones was heart-melting and what he said was even better. Tony promised that if fans wrote to him care of Crackerjack, and included a self-addressed envelope, he would reply to every single one, sending a signed photograph! He promised!
For Shy Miss of Morden (aged 14¾), this was all just a bit too much temptation. I knew of course, that Tony wouldn't be able to keep his word, as I'd seen photos of the sacks of fan-mail that these guys got and I knew that they had previously received so many letters that they had tried (with no success) to get their secretary to forge their autographs; but that didn't stop me.
Even though I considered the chances of Tony reading my epistle quite minimal (and possibly feeling re-assured by that) I repaired to my bedroom and poured it all out in my very best handwriting and on my most expensive blue-marbled Woolworth's note paper. I wasn't one to keep copies of things in those days, but I'm sure what my billet-doux lacked in spelling and punctuation, it made up for in the protestation of undying love. Was it sealed with a kiss? I hope so!
And soon it was January 1963. Just a couple of days before my fifteenth birthday, I got home from school to find some early birthday cards had arrived. I perched on the edge of the dining table in the living room of our council house to open them, but when I got to the one in the blue envelope, expecting a postal order from dear old Auntie Margie or some such, a post-card sized, signed copy of THIS fell out!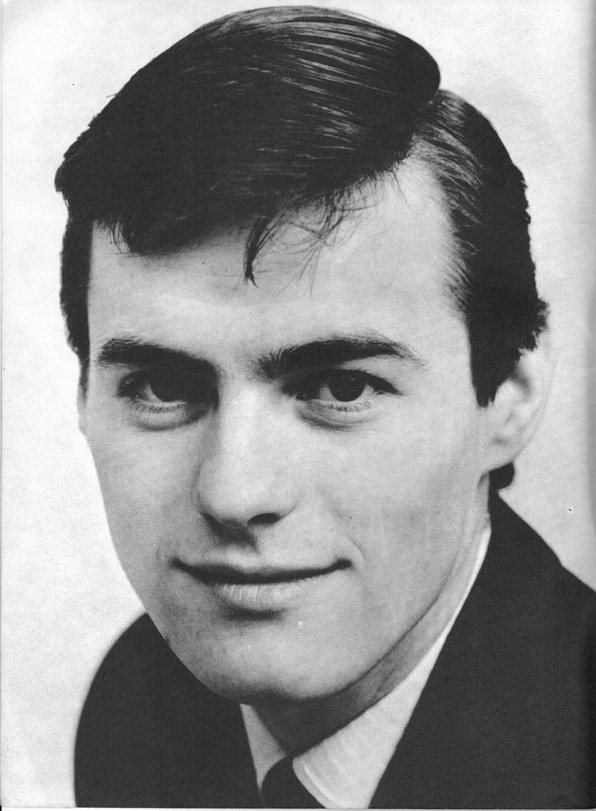 Signed, sealed and delivered!
And it was followed by THIS!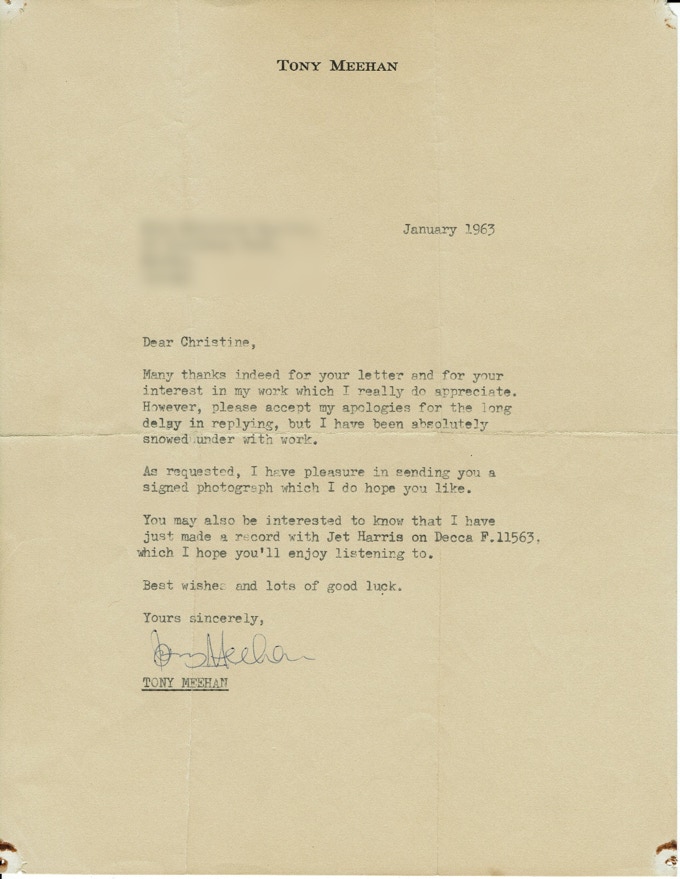 Oh, Boy! The effect was roughly equivalent to that of a small thermo-nuclear device being detonated in our living room. My poor grandmother, the only other person at home, watched open-mouthed and helpless as I did a vertical take-off and literally bounced, screeching, round our parlour in the way that only a teenage girl can. Fearing hysterics, Nan didn't know whether to call the police or an ambulance! The record mentioned in the letter was Diamonds, and I had, naturally enough, already bought it the day it was released, January 4th 1963. Yes, Jet and Tony were back, bigtime!
I daresay Nan calmed me down with a cup of sweet tea. I may have re-read the letter a few times, and it is just possible that I played the record once or twice that evening.
Even my parents were impressed by this act of kindness to their barmy little girl.
        "Now you're talking…" murmured Dad at teatime.
Author's Note: When I came to approach writing this book, I needed this artefact, of course. I was 70: I hadn't seen Tony Meehan live on stage since 1963. Was the letter at the bottom of a mouldy old trunk in the attic, covered in cobwebs, woodlice and silverfish, do you suppose? No! It was in a burglar-proof, water-proof, fire-proof, fall-out proof, steel-lined, leather-bound pilot's case with a triple-coded lock, in a cupboard not three feet away from where I would normally be sleeping! If they don't bury me clutching it, I'll be very surprised…
Jet Harris and Tony Meehan - Diamonds
This web site doesn't save any cookies or any personal data. 
Google, however, will track which YouTube videos are played.
If you own the copyright to any content here and wish to receive credit or have it removed, please contact me and I will respond promptly.