For The Record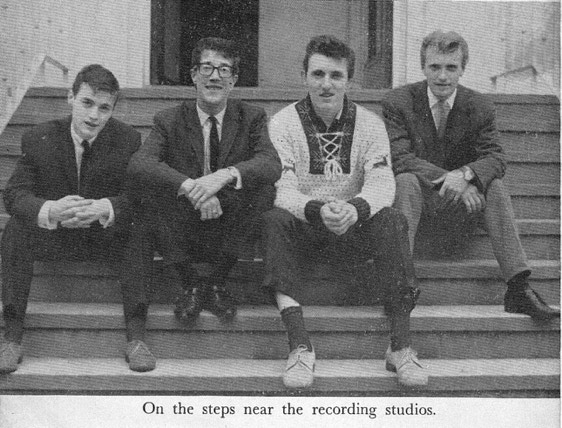 Either on their own as The Drifters/Shadows, or backing Cliff Richard, Jet Harris, Hank Marvin, Bruce Welch and Tony Meehan recorded well over 100 tracks that were released as Singles, on EPs or on LPs.
If you are a Shadowmaniac looking to complete your collection, there are now so many compilations of The Shadows' early work available that it wouldn't be fair to pick one CD that says it all. Is it mono, stereo, digitally remastered, re-recorded or "live" that you're after?
Well, for the sound of The Shadows as YOU originally listened to them, you can't beat a record player and your dusty old pile of 45s, or your tattered but treasured copies of THE SHADOWS EP or THE SHADOWS LP, can you? But if you're stuck on a Greek island without any of them, you might like to try this boxed set, which includes a bonny collection of precious tracks featuring Jet and Tony or Hank and Bruce (and, indeed, Brian) before The Shadows were even formed!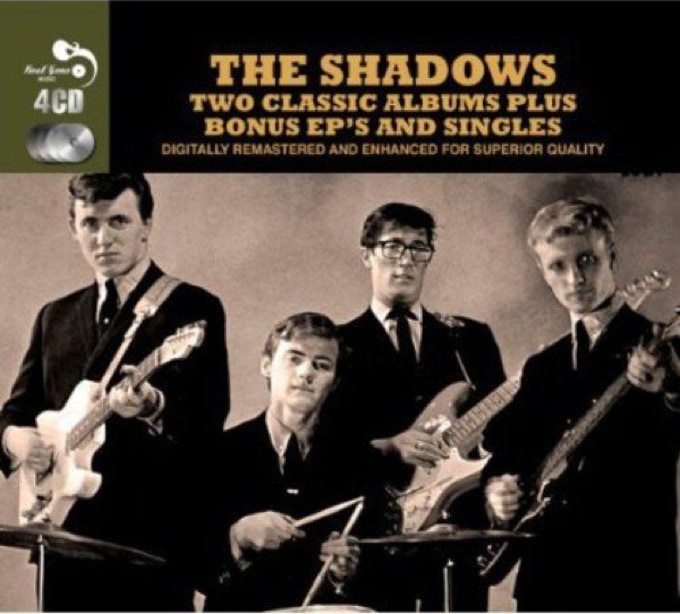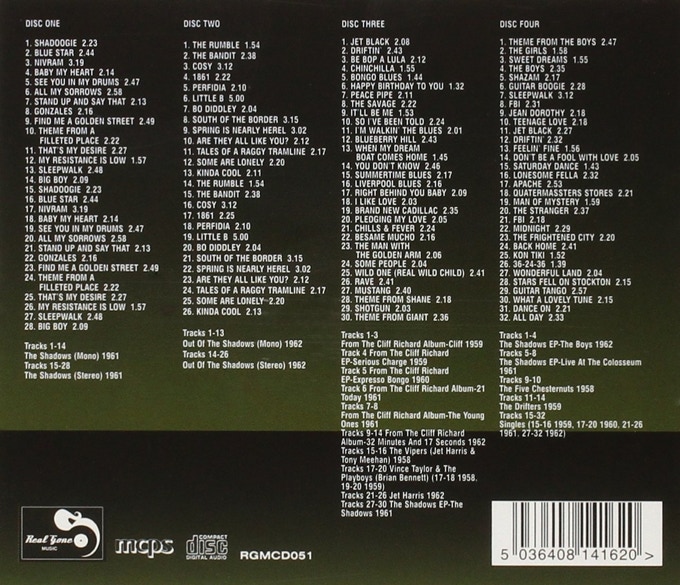 In this chapter, I'm trying to keep it relatively simple and focus on the original Top Ten hits played by Jet, Hank, Bruce and Tony. They were recorded at EMI's Abbey Road Studio 2 in St John's Wood (yes, the one by that zebra crossing!), produced by Norrie Paramor and released in the UK on the Columbia record label. With the title of the B side shown adjacent, and the highest chart position of the A Side noted in brackets after the date, these were:
The Top Ten Singles
Apache/Quatermasster's Stores
Man of Mystery/The Stranger (Double A Side)
FBI/Midnight
The Frightened City/Back Home
Kon-Tiki/36-24-36
The Savage/Peace Pipe
Wonderful Land (with Tony Meehan)/
     Stars Fell on Stockton (with Brian Bennett)
July 1960 (1)
Nov. 1960 (5)
Feb. 1961 (6)
April 1961 (3)
Sept. 1961 (1)
Nov. 1961 (10)
Feb. 1962 (1)
Apache/Quatermasster's Stores
Probably still the most famous track by the Shadows, Apache was recorded on 17th June 1960.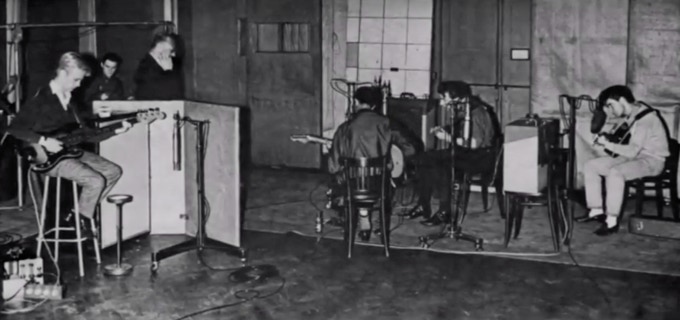 Inside Studio 2 at Abbey Road
Apache went down in 4 takes. Bruce borrowed Cliff's Gibson Jumbo guitar for the recording and Cliff himself played a Chinese drum on the "intro" and "outro". Written by singer-songwriter Jerry Lordan, and hummed and played to The Shadows on a ukulele, the tune was instantly recognised as a potential hit.
Not long before he died, Jerry Lordan "was adamant, and he wanted it 'noted for posterity' (his words) that 'JET HARRIS was the first to hear Apache'… 'Yes, it was played to Hank and Bruce on the famous coach journey to Bristol's Colston Hall'. But Jerry was insistent that history should be 'put straight': he played it first to Jet (probably the night before) and Jet replied straight away, 'You've got to play that to Hank and Bruce.'"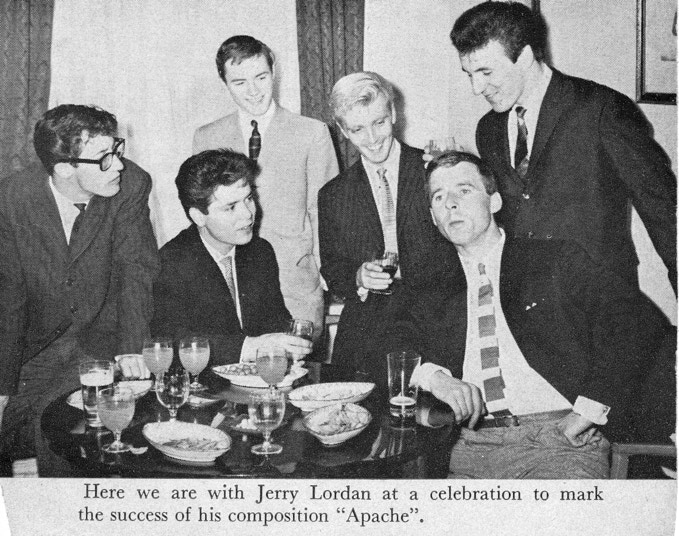 The final arrangement of Apache was worked out in dressing-rooms all over the place while The Shadows were on tour. We all know the story that Norrie Paramor saw Apache as a B side of The Shadows' next Single, but that his teenaged daughters told him otherwise. Apache was released as the A side not long after Jet's 21st birthday and hit the charts on 20th July, coming in at No.19. It reached No.1 on 20th August 1960 and was there for 6 weeks. Altogether it stayed in the charts for 5 months. The record was a hit just about everywhere except in the States, where a cover version made it instead.
I dread to think how many copies of Apache have actually been sold! (It's still going strong and was re-recorded by The Shadows for their Album The Shadows At Their Very Best in 1989, and included in their 11-Album CD set Boxing The Shadows 1980-1990, which came out in 2017.)
The Shadows' original recording went on to sell over a million copies and earned them their first Gold Disc. Here they are, receiving their first Silver Disc for Apache.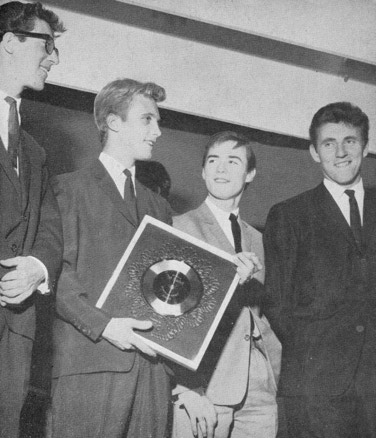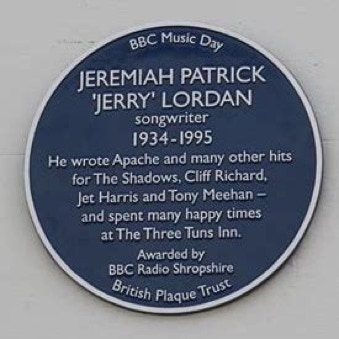 Apache was so seminal in launching The Shadows' careers that, following his death in 1995, Jerry Lordan's Blue Plaque mentions it by name. 
Quatermasster's Stores
Note the correct spelling. This track is generally referred to online and elsewhere as Quartermaster's Stores. The B side of Apache was actually released under the title Quatermasster's Stores, which was the first example of the group's use of word-play in a song-title. (This got worse later, with titles such as Rhythm and Greens and Scotch on the Socks…) Quatermass and the Pit was a scary science fiction TV series of 1958/59, as the clip below shows.
The Quartermaster's Stores (spelt thus) was, of course, a familiar, traditional sing-along army tune, originally composed by one Bill Shepherd, with words that suggested that "there were rats, rats, rats as big as cats in the stores, in the stores". Norrie Paramor, who produced The Shadows records at this time, was given to referring to this number as "Cookhouse Door". Norrie's brother Alan had recently formed his own music publishing company and he had re-published the song, which was then out of copyright. Royalties on a B side were the same as on the A side, so if the A side was a hit, the composer and publisher of the music on the B side also cleaned up on the deal! Once they'd taken this fact on board, The Shadows ensured that future B sides were mostly their own material. 
This live version of Quatermasster's Stores, which was broadcast on Saturday Club, would be a collector's item, perhaps, but the original Single is still my favourite Shadows record because of the impact it had on me (aged 12, I should like to remind you). It's one of those pieces introducing each musician with his own brief, highlighted spot, very useful from the point of view of working out which one was playing which bit, I thought. When my parents heard this belting down from upstairs in the morning, they'd judiciously advise one another, "Chris is awake, then…"
Quatermasster's Stores live on Saturday Club
Man Of Mystery/The Stranger
(released as a twin A Side)
The Shadows had been named Best British Small Group on the strength of the LP Me and My Shadows with Cliff; and Apache was voted the Best British Disc of the year, but it was difficult to think of a follow-up to such runaway success. Norrie Paramor suggested Man of Mystery. This record was released on 10th November 1960 and hit the charts on the 12th. It eventually reached No.5, its position having been influenced by the fact that each side of the disc competing with the other for airplay.
Man of Mystery was written originally as the theme of an Edgar Wallace Mysteries film series by Michael Carr. The Shadows' version  was not the music that accompanied the series. Their fast and piercing arrangement included Hank's trademark use of a tremolo. Famously, Hank fluffed one note in the solo, and has had to continue to play it throughout the rest of his career in order to retain what fans consider to be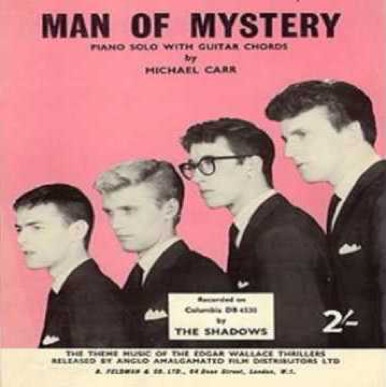 the "authentic" sound! Can you spot the note? 
The Stranger
This twin A side had more of a Western/Cowboy feel, and was thought to pick up on the "Wild West" notion of Apache. It was recorded in the midnight hours, at the same time as Shane and Giant were made for the first EP. With the working title "Paleface", the tune was composed by Bill Crompton & Morgan Jones, musician friends, who knew The Shadows from the days at the 2i's. After the success of Apache, Bruce reports, people kept offering them instrumentals with Western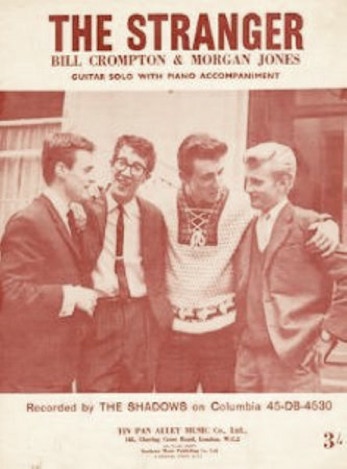 themes and titles, bearing in mind that TV series such as Wagon Train, Rawhide, Gunsmoke and Bonanza had very striking theme tunes and were also hugely popular in the early 60's. Remember this? 
FBI/Midnight
FBI was written by Jet, Hank and Bruce in a flat in Finchley that Hank, Bruce and their wives were sharing in Long Lane. Let us pause for a moment, fellow Shadowmaniacs, to imagine this scene. There you are in the kitchen, minding your own business, and trying to cook your Spag. Bol. And, meanwhile, in the living room…
In this video clip Hank even appears to have taken one of the original living room chairs with him to the TV studio!
For contractual reasons, the composition of this fabulous number was attributed to Peter Gormley, their manager, but The Shadows had by this time started their own music publishing company and they did receive the royalties. Recorded on 13th September 1960 at Abbey Road Studios, FBI was released in February 1961. The Shadows were just about to make their tour of South Africa, where this track was recorded live at a concert in Johannesburg. The studio version only made it to No.6, but FBI remains many a Shadowmaniac's favourite. It often ended the set, complete with the choreographed kicks that we know and love so well. In the noted appearance on Crackerjack, a children's TV programme, FBI looks a bit tamer than how the number was usually performed live. It was absolutely electrifying on stage. 
According to John Tobler, "FBI included an intricate finger-picked riff played by Bruce, which became an object lesson for thousands of hopeful rhythm guitarists at the time." Just as fascinating as the sound of FBI (to me), were the photographs that went with it. These people were armed and dangerous! A Pocket Guide says "Early publicity shots and sheet music showed 
the group as Tommy-gun toting, card-sharping mobsters. Hank admitted that, for a while, they were trying to cultivate a 'meaner' image, but their publicity agents were against it."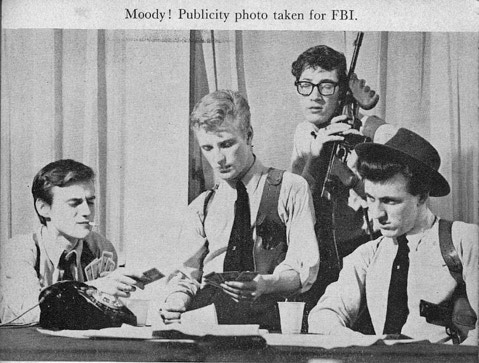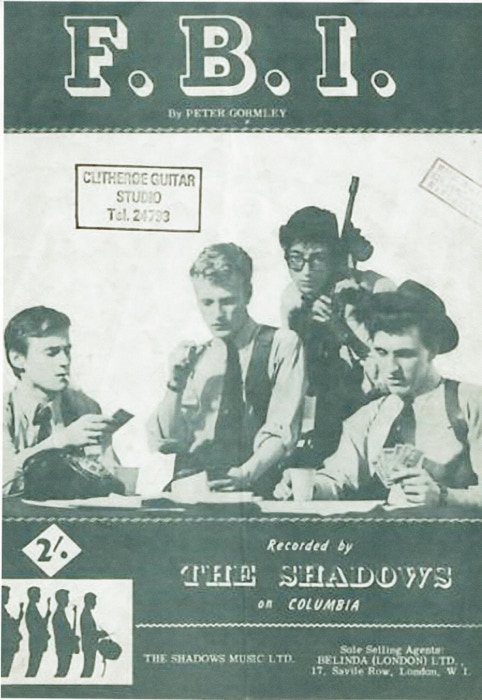 Note the publisher: Shadows Music Ltd.
Well, the publicity agents weren't daft then, were they? In my view, Hank has never really succeeded at looking "mean", but the rest could get away with it, don't you think? To me they looked like they'd escaped from the pages of a particularly dodgy novel…
And here, then, is the answer to a very knotty problem: How Do You Play FBI?
Midnight
The much calmer B side of the record was written by Hank and Bruce. It sends you off to sleep a treat. Although it sounds easy to play, like most slow tracks, it isn't. This is also a great favourite with Shadowmaniacs. At one stage Cliff wanted lyrics to be added, so that he could record it, too!
The Frightened City/Back Home
The Frightened City on Crackerjack April 1962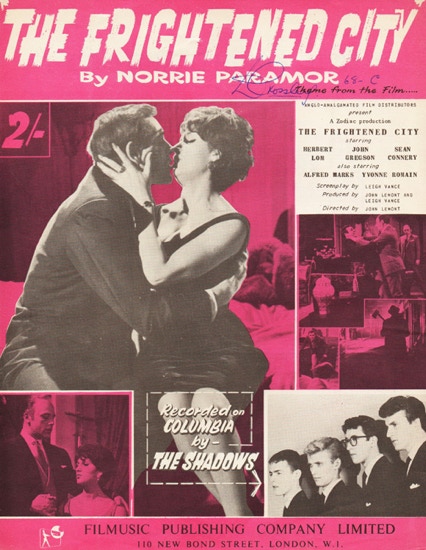 Composed by Norrie Paramor for the British gangster film of the same name, The Frightened City was The Shadows' second Top Ten hit of the year. It was recorded on 18th February 1961 and released in April. With its own somewhat alarming and mysterious atmosphere, it was a move away from the Wild West.
The Frightened City got to a satisfying No.3, while Apache was still in the charts and had already made The Shadows their first Silver Disc.
How to play The Frightened City
Back Home
The laid-back B side was written by Jim Goff, Jet, Bruce and Hank. It was recorded in one take. 
In The Shadows by Themselves, they are quoted as saying, "Back Home was a fantastic number for us. We made most of the arrangement up as we went along. When it was over, Norrie came down to us and said in amazement, 'You're joking!' But the disc was released just as it was." 
It was more usual in those days for a record to take eight or nine attempts before it was good enough to release, because after the recording engineer had heard each musician play a bit in turn, they would all be recorded together. If one of them then played a wrong note, 
it was back to the top. Another track that made a single take was Big Boy from the Shadows' first LP. Some took a lot more than that! By way of comparison, here is Gonzales, another track on the first LP, at Take 58! Well, that's perfection for you…
Kon-Tiki/36-24-36
The Shadows' second No.1 was composed by Michael Carr and was inspired by the story of Thor Heyerdahl's epic journey across the Pacific on a balsa-wood raft in 1947. Kon-Tiki was recorded on 27th January 1961 and released in September. It charted by 7th September, made it to No.1 in the Melody Maker charts by 7th October, and remained in the various charts for 10 weeks. Re-released in November, it was in the charts for a further 2 weeks, hence the apparent discrepancies you may find in some accounts. 
According to Malcolm Campbell's mind-boggling and exhaustive record of The Shadows' entire output: 
"The dramatic opening featured Tony Meehan on tympani with thunderous kettledrum overdubs, which burst out again in later passages. Jet played some almost funky bass figures against Hank and Bruce's jangly guitar patterns offset against some chord progression sequences. A very rich, full sound."
Hank's alleged duff note at 1.05 did not bother me, but particularly sad, I thought at the time, was the fact that Kon-Tiki was in the top slot at the end of the very same week in which Tony quit the group. The version of Kon-Tiki re-recorded for Roll Over Records Ltd in 1989 features Brian on drums and percussion, of course, with Cliff Hall on keyboards and Mark Griffifths on bass guitar. 
36-24-36
The B side of the Kon-Tiki Single was recorded on 25th May 1961 and its composition had been a communal effort by Jet, Hank, Bruce and Tony. This tune definitely has a wiggle in its walk. According to Jet, the title referred to the vital statistics of one of his girlfriends! Fifty-seven years later, notes Rob Bradford, this track is still used by guitar teachers as "an exacting exercise for would be bassists".
For the technically minded, here is Hank in 1997 talking about Apache, Kon-Tiki and his minor pentatonic double stops, echoes, whammy bars etc. Me, I just like the tunes! All I can tell you is that in 1961 I would've murdered to get my hands on the sound of Hank talking for this long (about anything!) and it doesn't do much for my concentration now…
A few years ago, my husband Ron and I went to see Hank in a concert that was really a tribute to the Fender Stratocaster. By then I hadn't seen Hank on stage for forty years. When he loped into view, looking exactly the same as he always had, I felt very peculiar indeed. For a moment, I had the distinct sensation of my heart suddenly launching itself towards the stage and landing in Hank's top pocket, (where it so often resided in the 60s). I was shocked! "I don't still feel like that about Hank Marvin now, do I?" I thought to myself. Well, evidently, I do! 
The Savage/Peace Pipe
Norrie Paramor composed both these numbers, the original title of The Savage being "Witch Doctor". It was recorded a couple of days before The Savage and was the version seen in The Young Ones, providing The Shadows with their very memorable part in the stage show at the end of the movie. 
Below you can hear Witch Doctor at Take 8 in the recording studio, together with the priceless sound of Tony's suggestion to Norrie as to how they might approach it. Witch Doctor was recorded at Abbey Road on 23rd May 1961 and, I'm reliably told, differs from The Savage in that it has "improvised elements, starting at 0.52".  
For its sheer drive and speed, the track is still noted as one of "the greatest performances of rhythm guitar in R&R instrumentals" and Bruce claims that this number always "does his hands in". In fact, you can see him wincing as he plays it in the film.
The Savage from The Young Ones
Even though The Shadows were on tour in Australia when The Savage was released without prior discussion with them, and the record couldn't be plugged on TV in the UK as it might have been, The Savage made it to No.10 in November.
Peace Pipe
This B side was another of those "Red Indian" themed melodies, and was as gentle and relaxing as the title sounds: always useful if you've just put your hip out of joint in the living room, playing air guitar to FBI, I find. In the film it is played by The Shadows in the background in a youth-club scene.
Wonderful Land/The Stars Fell On Stockton
Wonderful Land was another Jerry Lordan masterpiece. It was recorded way back on 12th May 1961, but the final Take 19, with strings and brass added, was not complete until 18th January 1962. According to Jerry Lordan himself, 
"The recording was made but it lacked something and was shelved, and then Tony Meehan suggested that the ideal thing might be, as a nice contrast, using Hank's lead guitar, electric guitar, but with a big string orchestra behind, and Norrie Paramor agreed." Tony himself had been back to the studio on 6th July to overdub the tom-tom and a little extra drumming.
The completed Single was finally released in February 1962 and had charted by 1st March. It made recording history by staying at No.1 for 8 weeks from 22nd March until 17th May and remained in the charts for 19 weeks. Wonderful Land was the last Single that featured the original Shadows' line-up, including both Jet and Tony. It sold more than a million copies. If you want to hear the version that did this, you'll have to get a copy of the mono Single or one of the CD derivatives. The most commonly marketed stereo version from the March 1990 2LP/2CD set The Original Chart Hits doesn't include the tom-tom overdubs. For absolute Shadowmaniacs, it is also possible to hear Wonderful Land before it had the strings added! 
Wonderful Land - the no-strings version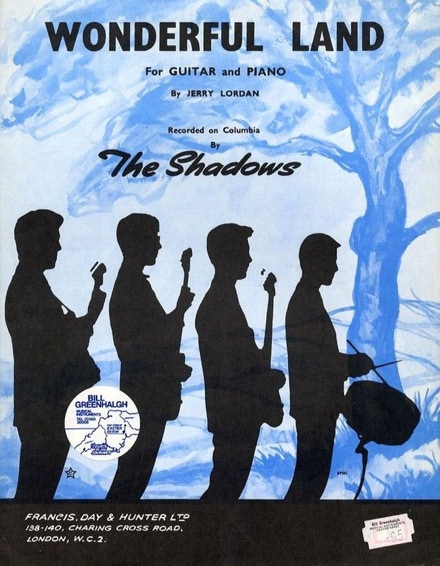 Although its run at the top was eventually beaten (by one week) in 1975 by Queen's Bohemian Rhapsody, Wonderful Land still holds the chart record for weeks at No.1 for a guitar instrumental. Malcolm Campbell's A Pocket Guide To Shadow Music notes: "That record has now stood for over 40 years, and it's unlikely ever to be broken."
Stars Fell on Stockton
This jokey B side was Brian Bennett's first recording with The Shadows and was co-written by him. As it included a lot of standing opposite one another and whistling, they could hardly perform it without laughing. Think about it!
As well as their Singles, Jet, Hank, Bruce and Tony also released an EP and an LP, which both topped their respective charts for many weeks. A further EP, consisting of 4 well-loved tracks and called The Shadows To The Fore,  toppled their own first EP from the No.1 position on 24th June 1961 and remained at the top of the EP charts for 23 weeks – a record all by itself.
 Says Bruce: "On 7th October we made pop history by topping three charts simultaneously with Kon-Tiki at No.1 in the singles chart, The Shadows at No.1 in the album chart, and The Shadows To The Fore at No.1 in the EP chart"
The Shadows LP (tracklist with composer credits)
A-side:
1. Shadoogie – Welch, Marvin, Harris, Meehan
2. Blue Star – Heyman, Young
3. Nivram – Welch, Marvin, Harris
4. Baby My Heart – Curtis
5. See You In My Drums – Meehan
6. All My Sorrows – Shane, Guard, Reynolds
7. Stand Up And Say That! – Marvin
B-side:
1. Gonzales – Marvin, Welch, Harris
2. Find Me A Golden Street – Petty
3. Theme From A Filleted Place – Welch, Marvin, Harris
4. That's My Desire – Loveday, Krease
5. My Resistance Is Low – Adamson, Carmichael
6. Sleepwalk – Farina, Wolf, Farina, Farina
7. Big Boy – Welch, Marvin
During that week in October 1961, across the Single, LP and EP, Jet, Hank, Bruce and Tony had 20 different tracks at No.1 at the same time!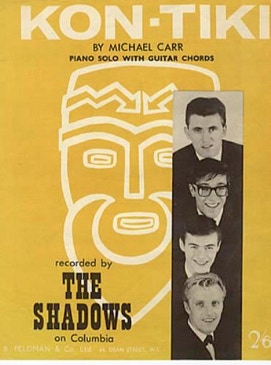 Pop History being made in 1961
This web site doesn't save any cookies or any personal data. 
Google, however, will track which YouTube videos are played.
If you own the copyright to any content here and wish to receive credit or have it removed, please contact me and I will respond promptly.