How The Shadows Came About – A Timeline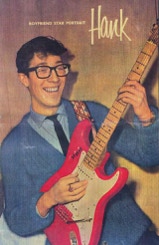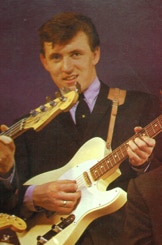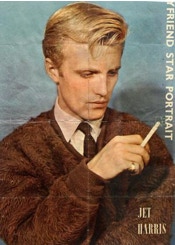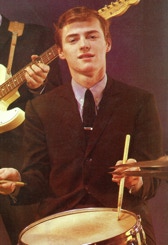 1949: Brian Robson Rankin, a.k.a. HANK MARVIN, aged 8, starts piano lessons. BRUCE WELCH, also aged 8, is given a ukulele by his uncle.
1953: Daniel Joseph Anthony Meehan, a.k.a. TONY MEEHAN, aged 10, gets a drum kit for Christmas. At this time he is still attending Beckford Primary School, and is a member of the 11th Hampstead Scouts.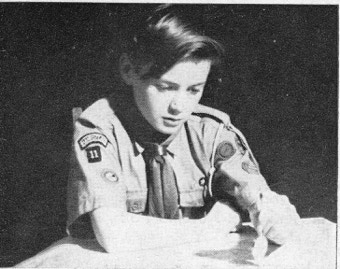 1954: Whilst at Regents Park Central School in Lisson Grove, St John's Wood, Tony plays washboard and an old army side-drum in a Skiffle group with friends John Steiner and Tony Kessler. They perform numbers such as Rock Island Line, made famous by Lonnie Donegan. 
Lonnie Donegan - Rock Island Line
1955: Apprentice metal-worker Terence Harris, a.k.a. JET HARRIS, aged 15, buys a clarinet because, at Willesden Tech., he has discovered Jazz clubs and begun "immersing himself in music".
1956: Jet trades in the impossible-to-play clarinet. Realising that the instrument for him is a double bass, he takes lessons with a Jazz musician called Sammy Stokes. After a couple of months, he starts playing with a few friends in a Modern Jazz group called The Delinquents at The Mapleton Club, near Leicester Square. They are earning £2.10s. a night.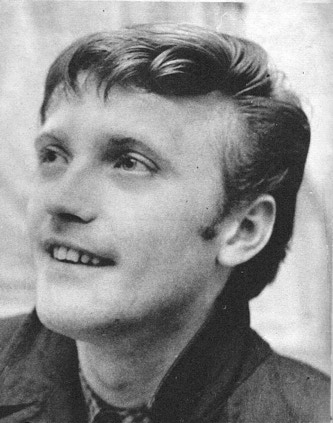 A very early photograph of Jet playing double bass
1956: Meanwhile, back at Rutherford Grammar School in Newcastle, Bruce has also been inspired by Lonnie Donegan. He acquires a guitar for £4/19/6 and joins a Skiffle group called The Railroaders. They consist of Bruce and friends, Jim Simmons and George Williams.
1957: At the same school, but in a different class, Hank now buys a banjo from his French teacher and joins the rival Crescent City Skiffle Group. On October 28th Hank gets a Höfner Congress guitar as a 16th birthday present from his parents, and is soon persuaded to join The Railroaders "for an undisclosed fee".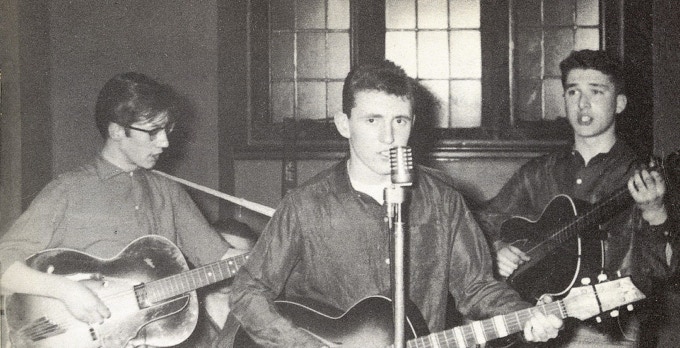 Hank, Bruce and George Williams in The Railroaders
Says Hank: "The Railroaders got a lot of bookings. We copped about twenty-five bob a night, doing clubs and shows. Between £6-£7 a week each." They start playing Rock instead of Skiffle because the Rock group booked to play at The Six-Five Club in a village near Newcastle fails to turn up.
Hank now sticks a pick-up on his guitar so that he can play proper solos. Five days later The Railroaders begin a week in variety at the Newcastle Palace. One Half of The Shadows is now playing professionally together on stage. The Railroaders head for London to take part in a talent competition at the Granada, Edmonton, with Hank on lead guitar and Bruce as rhythm guitarist and lead vocalist.
By now, Tony, aged nearly 14, is playing drums in a group with friends, Billy Flynn, Raymond Cleary and David Rees and/or joining numerous other 
musicians in playing Irish songs, watched by his proud mother, at Brady's or The Shannon Harpers in Kilburn. With his second drum kit, which cost his Mum £40, Tony's first semi-professional booking is in a run-down little club in Paddington. This dance band with no name plays waltzes, foxtrots, Irish jigs and the occasional Rock 'n' Roll number in clubs and pubs in Willesden, Kilburn and Paddington.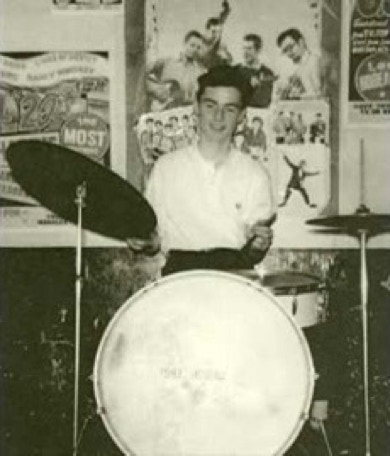 Tony playing Irish songs?
When Jet's unofficial music teacher, Sammy Stokes, turns down a job playing for Terry Dene of White Sports Coat fame, Jet jumps at it instead. It's a big decision, but for a fantastic £30 a week, Jet gives up his apprenticeship and goes pro.
Jet plays just one week in Middlesbrough, one week at the Astor Club in London and another week in Hull before he is told he isn't good enough! Instead, he gets a job selling coffee and coke at the famous 2i's Coffee Bar in Old Compton Street, Soho.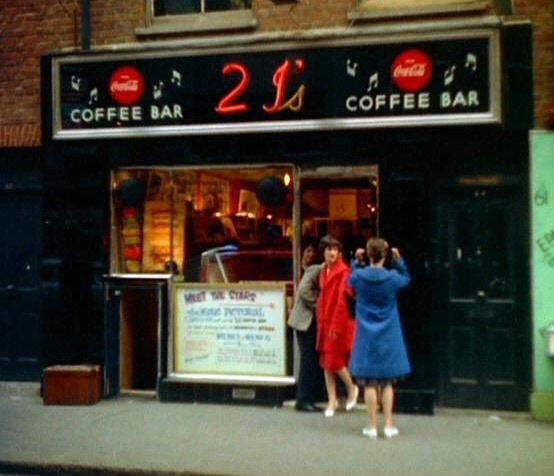 With the 2i's fast becoming an unofficial agency for musicians seeking work, Jet is still serving coffee and playing his double bass at odd moments in the cellar when he is asked to work for two months on a tour with a singer called Larry Page. They play various variety dates in the north of England and Jet also does a week of one-night stands with Don Lang.
Jet's big break comes when The Tony Crombie Band is booked for a 22-week tour in variety, including him as bass player. They are backing Charlie Harris, a.k.a. Wee Willie Harris. It is during this tour that Jet swaps his upright bass for a bass guitar; and as he plays the Metropolitan, Edgware Road, another life-changing event takes place: Jet Harris meets Tony Meehan, "a pale-faced boy" who asks him for his autograph.
The Other Half of The Shadows has made first contact. A few months later, they meet again, this time in the cellar of the 2i's.
1958: On April 6th Hank and Bruce arrive in London to take part in the finals of a talent competition with The Railroaders. They come third. They have booked for one night into a Holly Park boarding house, run by a Mrs Bowman, who is also a Geordie, but it ends up being their their home until the end of 1959!
When The Railroaders split up, Hank and Bruce join a drummer called Pete Chester, son of well-known comedian Charlie Chester, in a group called The Chesternuts. Together they record a Pete Chester number called Teenage Love, which makes the press and very nearly makes the charts. They also do their first TV stint, appearing on Six-Five Special. 
This is the first record known to feature Hank and Bruce. 
Soon, however, Hank and Bruce are also either playing spasmodically in the cellar of the 2i's or working the orange juice machine. Hank recalls that he is the first person to work the machine on the day it is installed. 
It therefore seems likely that the first three quarters of The Shadows meet somewhere near the orange juice machine in the summer of 1958.
As well as learning how to wangle free orange juice, Hank recalls that he was struck by London cuisine. Says Hank: "On reflection, it was a pity that the Chesternuts thing didn't work out. Bruce and I would really have liked it to be a successful outfit, especially after Pete's mum had kept us from fading away with malnutrition by feeding us up with poached eggs and crinkly chips! Those crinkly chips really impressed me. I'd never seen anything like them in Newcastle!"
There's not much money in their pockets, nor much food on the table. Between the months of April and October, Hank and Bruce once survive for two days by sharing one apple, which is all they have between them.
1958: In the summer, Jet, Hank and Bruce are joined on stage at the 2i's by "a white-faced lad with a cap" coming down to the basement and asking if he can sit in with them. This is schoolboy Tony Meehan, who together with his friend Dave Rees, is exploring Soho. Says Tony: "I was stopped in my tracks by this incredible noise coming from somewhere under the pavement…I was stunned – it wasn't a record, it was a group and they were British! I knew that because I recognised the blond bass player..."
Tony is wearing a cap in the manner of Gene Vincent's Blue Caps, and thinks he looks "pretty cool".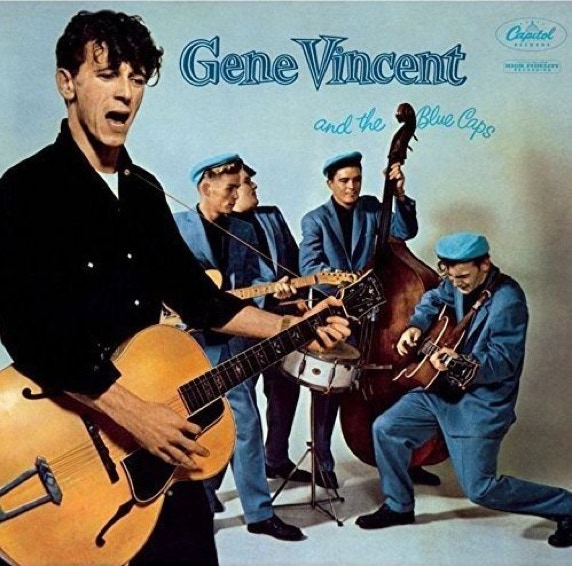 Gene Vincent & the Blue Caps
Between them, the lads pay six shillings (almost all the money they have on them) to get into the cellar. At Dave Rees' suggestion, and after he's spent some time plucking up courage, Tony gets up and asks to have a go, playing a couple of numbers with Hank, Bruce and Jet.
This is the first public performance of 100% Shadows. 
In fact, the others are not wildly impressed because Tony, more used to working with the London Youth Orchestra, plays Jazz-style, not Rock 'n' Roll. Says Hank: "He played very fair drums, but at first we weren't too struck with him as he couldn't play Rock. This was Tony. After a few days he came regularly. We noticed he was a good drummer then. Fabulous in fact. For a while we played there as a group for three nights a week. We had no name at all."
"And so it came to pass," says Mike Read in The Story of The Shadows, "that during those few months in the middle of the year a group without a name or a leader would often play together down in that Old Compton Street cellar as a four-piece: Hank Marvin, Bruce Welch, Jet Harris and Tony Meehan."
Author's Note: If you like this much detail or if you are secretly wishing you had been there, STOP READING NOW! You are displaying early signs of Shadowmania, which can lead to this kind of thing turning up in your living room: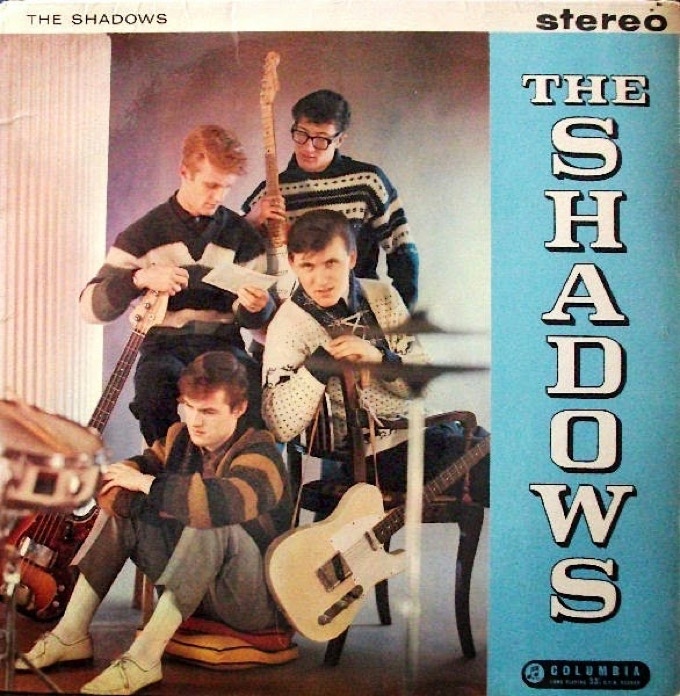 1958: Amongst the other would-be stars at the 2i's are Brian Bennett, Licorice Locking and some bloke called Cliff Richard. They come into the story later. Meanwhile, in the autumn, The Vipers, who are playing with singer Wally Whyton, have a change of line-up. Hank and Jet join this group, but Hank leaves after a week. Tony goes in on drums.
The Vipers, including Jet and Tony, record Summertime Blues and Liverpool Blues with an up-and-coming producer, George Martin at EMI's Abbey Road studio. On the second of these tracks, Shadowmaniacs will note the voice of Tony, commenting on the contribution made by someone answering to the name of "Zombie Boy".
This is the first record known to feature Jet and Tony.
Tony does his first tour with The Vipers. Says Tony:
"We played Barrow-in-Furness, Ashton-under-Lyme, Crewe and other towns. We all travelled by car, taking Jet's animals with us. I remember that the dog was called Basie, and the cat's name was Ella. The first night on tour we had to spend in the car, all five of us. We were somewhere in the Lake District with not a hotel in sight. I slept with someone's smelly feet stuck under my nose. But it was great. I loved every minute of it. We didn't have much money, but it was just what I expected touring to be like. For the first time, I was thrilled with everything."
1958: During the last week of September, The Most Brothers have been booked for The Kalin Twins tour, with Hank and Jet accompanying them. Says Hank:
"Cliff's Move It had just entered the charts at number 28. I was introduced to someone who said he was Cliff Richard's road manager. At first I thought he was joking. He said he had come to hear guitarist Tony Sheridan as he was looking for someone to back Cliff who was also going on The Kalin Twins tour. Instead, he heard me and signed me up. This meant I would be getting double money for the tour. Fantastic! Thinking about Bruce, I asked if they wanted a rhythm guitarist in Cliff's backing group. Luckily, they did. It was October. Two days after this, we started touring."
In fact, Hank meets Cliff for the first time just before the tour opens, while he is being fitted with his famous pink jacket at a Soho tailor's.
Cliff's backing group is called The Drifters and includes, as well as Hank and Bruce, drummer Terry Smart and bass guitarist Ian Samwell. The tour starts on 5th October at the Victoria Hall, Hanley, near Stoke-on-Trent, and The Drifters are paid £12.10s per week each "out of which", says Bruce, "we had to find our own accommodation on the road and our food. Still, anything was better than starving at Mrs Bowman's."
During the first night's performance, Cliff starts to crouch down on the floor as the volume of the line "Shake, baby, shake" gets lower and lower. So Hank, Bruce and "Sammy" Samwell get lower and lower, too, until they are flat on their backs on the stage. (They subsequently abandon this part of the act, due to difficulty in getting back on their feet…) Cliff is mobbed every night for 21 days. He is 18 on the 14th October and at the De Montfort Hall in Leicester, the whole audience rises to sing Happy Birthday. By the end of the tour, Move It is No.4.
Move It with The Shadows 1960
A few days after the beginning of the tour, Cliff approaches Jet, who is backing The Most Brothers, and asks him to join The Drifters, replacing Ian Samwell. Says Jet:
"Cliff came to me on that tour and said, 'Excuse me. Are you Jet Harris?' I said, 'Yes.' He said, 'Would you like to play bass for me?' Up until that point I'd never seen anyone with a pink jacket and pink socks…"
Initially, Jet turns down this offer, but when he sees the audience reactions to Cliff, he swiftly changes his mind! Here he is with the rest of The Drifters as they were, playing High Class Baby on the Oh Boy! show on the 15th November.
On 14th November 1958 Cliff Richard and The Drifters cut Livin' Lovin' Doll and Mean Streak for release in the New Year. This picture of The Drifters with producer Norrie Paramor must have been taken not long after Tony joined them. Diligent enquiries suggest that they may have got the idea to swap drummers during this recording session.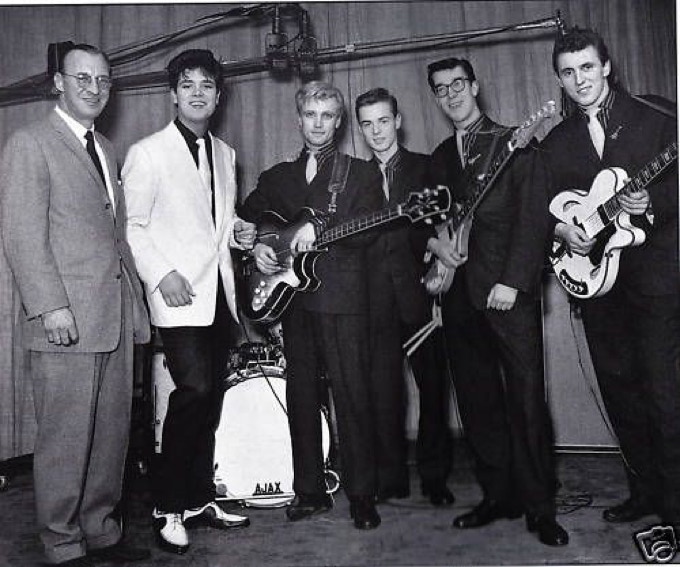 Here you can listen to Livin' Lovin' Doll and Mean Streak, featuring Terry Smart on drums.
1959: Shortly after the recording session Jet recommends Tony to replace drummer Terry Smart. Says Tony: "In January 1959, Jet told me there was a job playing for Cliff Richard. I was still fifteen then, but told Cliff I was sixteen. I got the job."
For Tony this is a somewhat delicate situation, as Terry Smart and Ian Samwell are both close friends of Cliff. For a while Ian Samwell acts as Cliff's manager. 
As Jet's biographer Dave Nicolson notes, "Hank Marvin, Bruce Welch, Jet Harris and Tony Meehan, now regarded by many as the classic Drifters/Shadows line-up, make their stage debut with Cliff at the Free Trade Hall, Manchester in January 1959."
With the support of Cliff and Norrie Paramor, they are signed in their own right by EMI on 5th February 1959. In fact, it is Jet's Dad who signs the contract on behalf of Terence Harris, because, even though he "has under his control the group of musicians known as The Drifters", Jet is still only 19.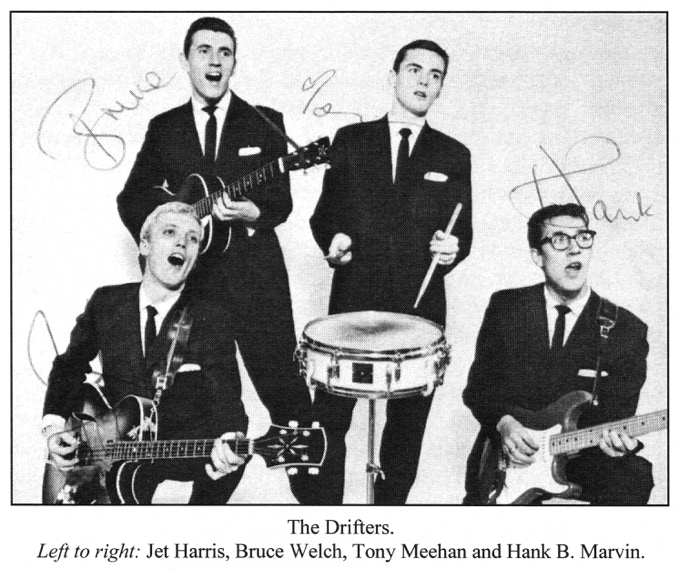 Their first Single as The Drifters, a vocal recently written by "Sammy" Samwell, is called Feelin' Fine and is backed by Pete Chester's composition Don't Be A Fool (With Love). Says Hank: "It wasn't released — it escaped… I can never remember whether it sold eleven or twelve copies…"
Don't Be A Fool (With Love)
When Feelin' Fine is released in the States, a well-established American group also called The Drifters takes out an injunction restraining them from using the name. A new one has to be found pretty fast. It is Jet who has the brainwave. While he and Hank are riding their Lambretta scooters on the way for a swim at Ruislip Lido, they stop for a drink at The Six Bells pub. Here Jet unexpectedly comes up with the inspired notion that, as they are always playing in Cliff's shadow, why not call themselves The Shadows? 
So on that hot July day in 1959 a new group THE SHADOWS is born out of the old.
Shadowmania: a diagnostic tool
Try to be honest and tick the right box.
I have listened to Feelin' Fine
If you own more than one copy of Feelin' Fine, it's probably too late to save you.
On the other hand, who cares?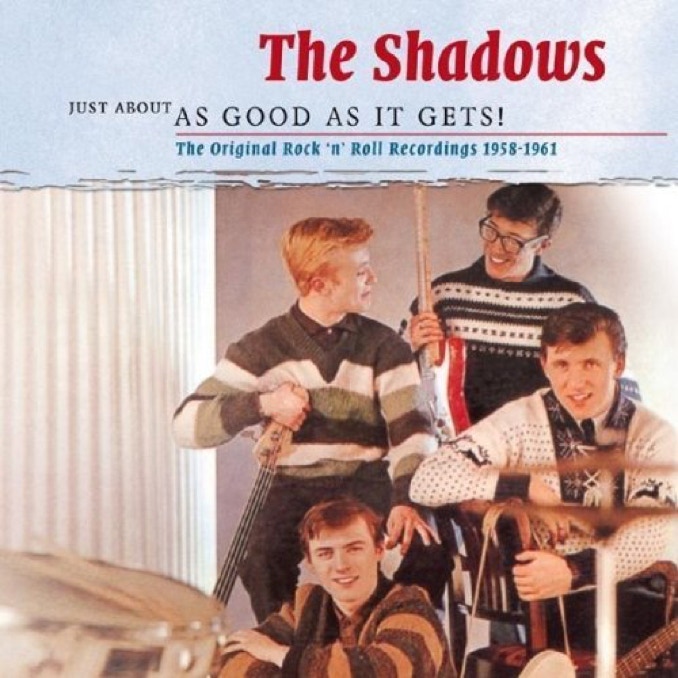 Author's Note to Brian Bennett Fans, who may be becoming distressed at this point: Brian played drums with The Shadows for about 50 years. Fret not! I'm coming to that…
Meanwhile, just to keep you happy, this is Brian, playing Ghost Riders in the Sky.
This web site doesn't save any cookies or any personal data. 
Google, however, will track which YouTube videos are played.
If you own the copyright to any content here and wish to receive credit or have it removed, please contact me and I will respond promptly.