1963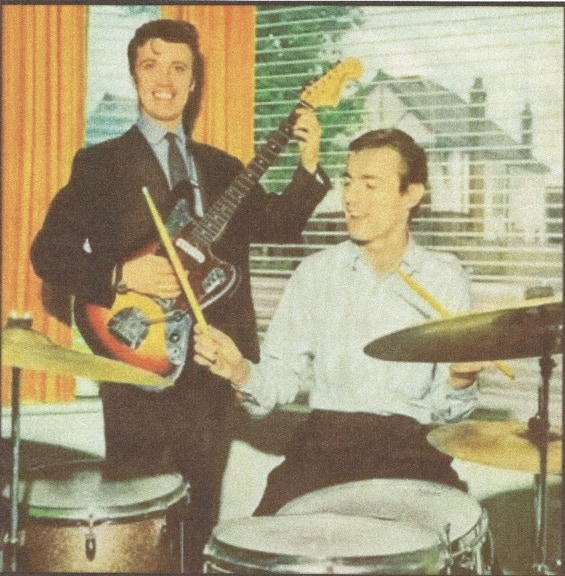 Bopping in the gym to the sound of your pop heroes at lunch-time on a rainy day is always fun, but never more so than when you've got a gift from one of the guys at No.1 in your school-bag! Just imagine the chitter-chatter amongst the gels of the fourth year as I jived with best friend Lulu to the drum solo of Diamonds: "Christine's just got a letter from him …No!!!... Yes…It's her birthday, you know… He sent her his photo…signed…and a letter…" and so on and gloriously on.
Just look at what we were dancing to!
Cliff Richard & The Shadows The Next Time/Bachelor Boy − No.1
The Shadows Dance On! − No.1
Jet Harris & Tony Meehan Diamonds − No.1
Cliff Richard & The Shadows Summer Holiday − No.1
The Shadows Foot Tapper – No.1
Cliff Richard & The Shadows Lucky Lips – No.4
Jet Harris & Tony Meehan Scarlett O'Hara – No.2
The Shadows Atlantis – No.2
Cliff Richard & The Shadows It's All in the Game – No.2
The Shadows Shindig – No.6
Jet Harris & Tony Meehan Applejack – No.4
Cliff Richard and The Shadows Don't Talk to Him – No.2
The Shadows Geronimo – No.11  
The year began with Cliff and The Shadows already at the top with The Next Time/Bachelor Boy from the film Summer Holiday. By the 24th of January 
The Shadows' Dance On! had displaced Cliff at No.1, but Diamonds was already giving them all a run for their money!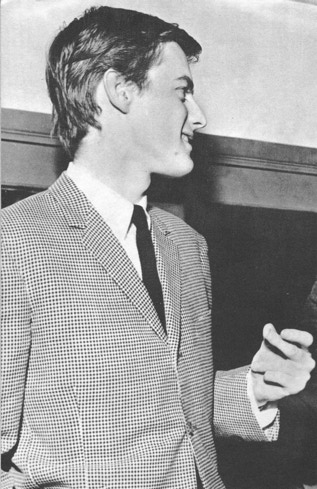 Tony listening to the playback of Diamonds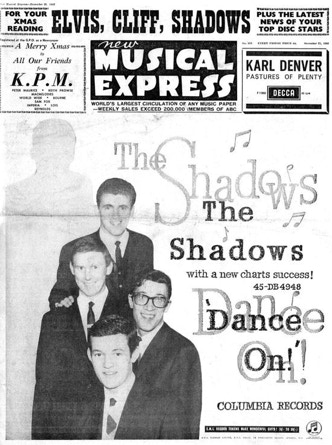 Dance On! was The Shadows' fourth No.1 and was very "dancey" indeed. This ancient video clip shows what young ladies were aspiring to look like at the time! Note: because Licorice's stay in the line-up was so short, it also shows his successor, John Rostill, playing bass.
By the end of the month, though, Diamonds had knocked both Cliff and The Shads off their perches. It stayed at No.1 for three weeks and was still in the charts in March. Do you remember listening avidly to DJ Alan Freeman on Pick of the Pops every Sunday afternoon?
Pick of the Pops 'At The Sign of the Swinging Cymbal'
Brian Fahey and His Orchestra
Oh, how I enjoyed this edition of the show on 31st January! It had Alan Freeman reading the Top Ten with Jet and Tony at No.1, Cliff at No.2 and The Shadows at No.3.
Pick of the Pops, 31st January 1963
In January we had all also been to see Summer Holiday, of course. Say what you like about the plot of Summer Holiday! This romp, in which Cliff drives to Athens in a London bus with a pretty stowaway aboard, brought some old favourites from The Young Ones back to our screens. It got Cliff voted as the 
most popular film star in Britain for the second year in a row and, as Mike Dolbear points out: "The Shadows brought the curtain down on Summer Holiday in Greek national dress, playing the title track – which brought Bennett his first Ivor Novello Award – on bazoukis and tambourine. Everybody stood up and applauded that at the premiere."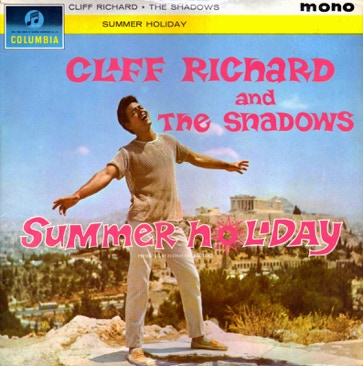 Summer Holiday End Titles film clip with BAZOUKIS
Of course, the title song, written by Bruce and Brian, would be yet another No.1. Says Brian: "Bruce and I were together just running through some numbers when a script arrived for Summer Holiday…at that time they hadn't written a title track, so Bruce said, 'Let's have a go,' picked up a guitar and started singing, 'We're all going on a summer holiday, no more working for a week or two…' and it just came straight out. I went over to the piano and the same thing happened in the middle section. I went straight into, 'We're going where the sun shines brightly, we're going where the sea is blue…' and the whole song was finished inside twenty minutes. We put it straight down on my Starlight tape recorder, and just over a year later it topped the charts."
As it happened, there was a record by Cliff, The Shadows or Jet and Tony in the charts every single week of the year and they were all riding high. They were in the Top Ten for 47 of those weeks!
The tables below illustrate how their hits overlapped for the first six months. In some crazy weeks they had, between them, up to five Singles in the charts at the same time.


In fact, Jet and Tony, having got together in the studio again at the suggestion of Jack Good, intended Diamonds to be a one-off event. Said Jet: "I have to admit that things have not gone exactly as I had planned. When Tony and I recorded Diamonds, we looked upon it as a one-shot novelty, and we didn't dream it would be such a success. Now, we're determined to carry on together. We've got to – the fans expect it."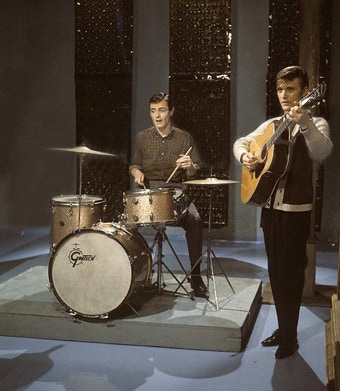 As Roger Dopson points out in his sleeve-notes to the Jet and Tony CD, Diamonds and Other Gems, this number wasn't going to go away:
"A timeless, wholly magnificent recording, Diamonds possessed a swagger, a cutting edge − and sheer authority – which the Shads had been missing since…well, since Harris and Meehan's departure. And to this very day it remains perhaps the finest UK instro. of all…"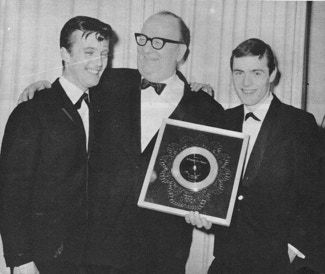 Billy Cotton presenting the Silver Disc
By the 9th of February Diamonds, another masterpiece composed by Jerry Lordan, had reached sales of more than 250,000 and earned Jet and Tony a surprise Silver Disc.
As Cliff, The Shadows and Jet and Tony jostled each other up and down the charts for the rest of the year, they appeared to rule the airwaves, the cinema screens, the TV screens, the record shops and the musically inclined papers and magazines.
The Summer Holiday Single was followed by The Shadows' fifth No.1. Composed by Hank and Bruce, Foot Tapper had also featured in the movie. It was, as the title suggests, another one to get you on your feet!
The Shadows Round and Round and Foot Tapper from Summer Holiday
Meanwhile, Jet and Tony were now the country's most "in demand" act and, at £1,000 a week each, the highest paid.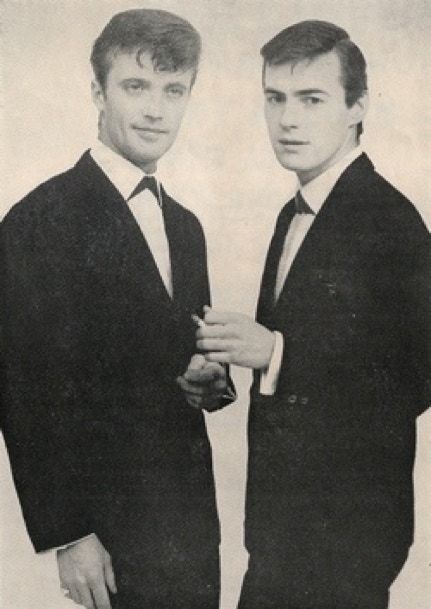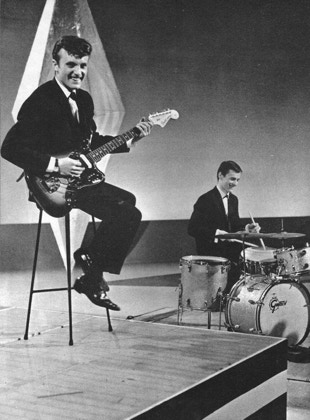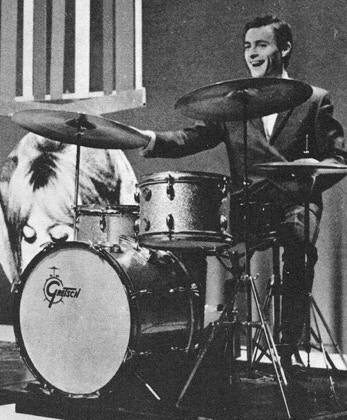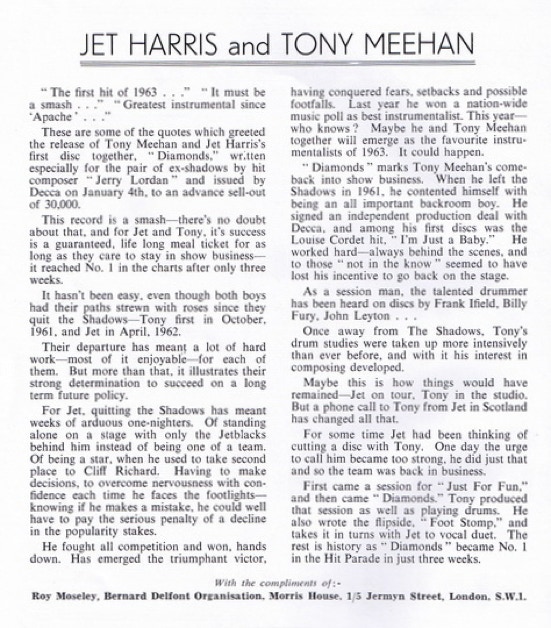 A page from the tour programme
The duo toured in March, May and June, and the sparkling Scarlett O'Hara (another brilliant Jerry Lordan composition) reached No.2. Is this the world's most joyous ever drum-break? Author's Suggestion: Play it LOUD! 
Scarlett O'Hara stereo version
In May we also had Cliff and The Shadows at No.4 with Lucky Lips; and in June The Shadows released their next smash hit, featuring yet another majestic and haunting composition by Jerry Lordan! Atlantis sailed to No.2 and remained in the charts for 17 weeks as they began a summer season in Blackpool.
I think I prefer this even to Wonderful Land, but I'm not really sure...
While The Shadows were in Blackpool, Cliff's wistful All In The Game took them to No.2 again.
In August Jet and Tony appeared on a Thank Your Lucky Stars TV special to promote their next Single Applejack, which charted on the 5th of September and soon went up to No.4. Notice Jet's latest flame, 17-year-old singer Billie Davis, standing behind him in the group shot.
But just when we thought it couldn't get much better, things started falling apart. They already had, in fact. It had taken Jet and Tony 10 hours in the studio to lay down just one track; and in February Jet's health problems had already caused him to be admitted to a Harley Street Nursing Home where "he was suffering from nervous exhaustion and had been told to take a complete rest". After the success of Diamonds, of course, the demands of stardom became ever more relentless.
In Jet's 2011 biography, Tony is quoted as saying: "It took two or three days to record Diamonds. Jet was ill and had difficulty learning it. When we got round to recording Scarlett O'Hara and Applejack, Jet was very sick by that time, couldn't learn the numbers and was nowhere to be found. Sometimes he would turn up and sometimes he didn't. You didn't know how you would find him and my nerves were ragged. A session musician, Joe Moretti, played on those records, but Decca put Jet's name on it to sell them."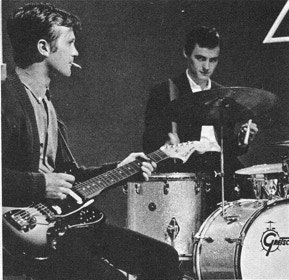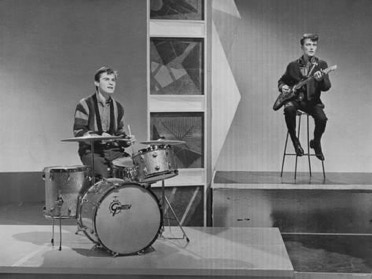 This was a well-kept secret for a long time and sounds pretty awful, doesn't it? However, just as it was normal to have artistes mime to their discs on TV, it was then, and still is, quite common practice in the industry to enhance a recording by employing a session man. Jet would, of course, be expected to play the numbers when they were performing live. Just to make up for it, I daresay, in 2003 Jet created two separate CDs, on each of which he played eight different versions of the two greatest hits that went out in his name: Diamonds Through the Years – 40 years − A Celebration; and Scarlett O'Hara Through the Years – 40 Years – A Celebration. They were both special releases for his Fan Club.
Meanwhile, back in 1963, with the success of Applejack, Jet and Tony were booked for a 28-day autumn tour. It was not to be.
In September Jet and his girlfriend Billie Davis went to Evesham in Worcestershire, where she was performing. While they were asleep on the way home, says biographer Mike Cook, "their chauffeur-driven limousine collided with a Midland Red bus at a road junction. Jet was knocked unconscious and suffered severe head injuries requiring 34 stitches; Billie 
sustained torn leg muscles and splinter factures on both sides of her jaw, which had to be wired for several months."
Billie had effectively saved Jet's life by dragging him out of the car, but the news of their affair was now all over the papers and the attacks on her were vitriolic (because, although there was a divorce pending, Jet was still a married man at that stage). As well as the rest, Jet was very upset, fearing that it might wreck her own promising career.
As Roger Dopson has since pointed out:
"Jet, of course, should have been given time to recuperate. But Applejack had just been released and was climbing the charts, and they'd been booked to promote it on Ready Steady Go! He was still in shock when he turned up for the pre-show rehearsal, and although Meehan and a couple of RSG producers managed to coach Jet through a shaky run-through, he clearly wasn't up to it. By the time the show started he'd scarpered, and Tony had to mumble his way through a hastily-concocted interview [with Cathy McGowan] instead of playing the number."  
Still struggling with the adverse publicity and the aftermath of the accident, Jet was due to appear with Tony at the Odeon, Lewisham, in October, but he didn't turn up, having apparently disappeared into thin air. A spokesman for the Bernard Delfont organisation said, "The whole thing is a mess. We don't know what's happening. We can't find Jet Harris since he walked out of the TV studio."
When hungry news-hounds tracked them down in Brighton a few days later, Billie claimed that Jet had not been able to face being seen with a large scar and shaven head after the accident. Distressed by the cameras, and still under the effect of his strong medication, he'd just had to get out of the place. Now on the edge of a nervous breakdown, Jet told reporters: "Tell them I'm out for good. I've quit show business and am not coming back."
After a medical check-up on the 8th October, Jet was told he must rest for six months, but just two days later he was arrested on Brighton seafront for being drunk and disorderly. He was fined £4 after his solicitor claimed that he had "very unwisely" drunk some beer after taking sedatives.
Tony, meanwhile, missed the first week of the October tour due to his own illness, and was obliged to fill the remaining dates in what was now called The Tony Meehan Combo, with Joe Moretti on lead guitar and John McLaughlin playing rhythm.
It looked like Jet and Tony as a double act were done for.
Needless to say, perhaps, it didn't stop me and a couple of school-friends turning up at Wimbledon Palais to see Tony playing without Jet. This now seems to have been a very sad occasion but, of course, it was pretty exciting at the time!
For this gig, in what was essentially a dance-hall in those days, we prepared by insanely practising a made-up sort of line-dance that we would perform to (Doin' The) Hully Gully, which was the B side of Scarlett O'Hara. We went ahead with this on the night, even though one of us had a twisted ankle in bandages! To my great consternation, when it came to it, we were fully visible by Tony, who was a few yards distant, mid-stage. Well, we had a good view and were close to the front for the Diamonds solo, but, really, for Shy Miss of Morden (aged 15¾) it was distinctly embarrassing. We'd gone there to see him, not the other way round!
Jet Harris and Tony Meehan (Doin' The) Hully Gully
In fact, in that Wimbledon concert Tony looked fed-up and worn out and couldn't wait to get away. My principal memory of the evening, apart from that of our barmy dance, is of watching his slight figure fading from view at the end. I considered pushing through the crowd for an autograph while he was hurrying off, as was his custom, stage-right, but I thought better of it. After all, I already had his autograph, twice on my photo, and my letter… So, with Dad waiting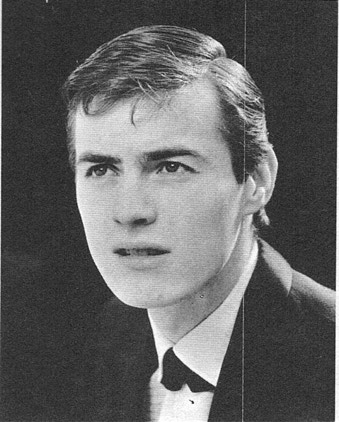 to pick us up outside, I went home for an early night, none of us realising that this was the last time I'd ever see Tony live on stage. Now I come to think of it, maybe it's just as well I didn't know that, really…
In its own ghastly way, autumn of 1963 was just as traumatic for The Shadows. After 42 nights touring, with additional radio and TV commitments, it had no doubt been a blessed relief to be able to unpack properly and have some leisure time while they played another summer season at Blackpool with Cliff.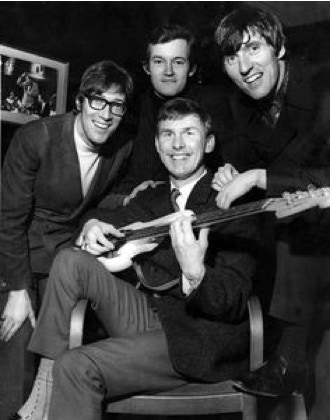 Hank, Brian and Bruce with Licorice (seated)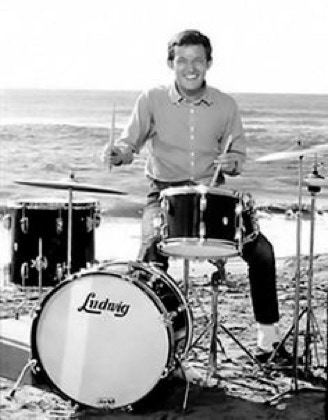 Says Brian: "Off duty moments for me that summer were spent on the local golf course knocking great lumps out of the fairway and trying to hack my ball out of assorted gorse bushes. I also had a bash at painting…much to the amusement of the other lads. They spent a lot of time tearing round in their cars and watching film shows at the house that Cliff was renting."
It sounds a lot of fun, but these jolly pictures from the time, don't really tell the story. The photos in the news-cutting below are more like it!
All was not well with Bruce, whose anxieties were running out of control. 
Says Bruce: "My obsession with getting my guitar absolutely bang in tune really had its roots back at the time we started turning pro with Cliff…I'd be tuning and re-tuning right up to the moment we were due on stage, but during the 1963 Blackpool summer season, it dawned on me and everyone else that I was getting worse. I'd turn up at the ABC Theatre at three o'clock every day just to make sure my guitar was in tune for the 6.15 performance, and eight times out of ten I was still out of tune, or imagined I was, by six! …I should really have gone to see a doctor."
Says Brian: "It was an impossible situation, you couldn't clean your teeth or even clink a glass – his nerves were totally shattered by his mad obsession."
Bruce's concerns magnified. He says, "I worried about every little thing: whether my shoes were polished, whether my suit was properly pressed, if my amplifier was going to work OK when I was on stage, timekeeping and tuning –you name it, I worried about it." On top of everything else, Licorice, a devout Jehovah's Witness, was spending more and more time preaching from door to door and attending meetings.
Said Bruce in 1989, "Everything had to be exactly right for me; I was, and still am, a perfectionist and a stickler for time-keeping, so Hank's erratic attempts at promptness, and Licorice's devotion to his activities really got my nerve ends jangling that summer!" We can imagine, can't we, the state of Bruce's nerves when Licorice, turning up after a day of canvassing for converts in Preston, found the rest of The Shadows already on stage?
Bruce admits: "… it was the sergeant-major syndrome that had upset Jet and Tony, and now I was giving Licorice an equally hard time…I told him in no uncertain terms to buck his ideas up and get to grips with himself. That was good coming from me in my state!"
By autumn, doctors had told Bruce that he was heading for a nervous breakdown if he didn't leave the group, and to the astonishment of the public, he announced that he would quit at the end of October, after planned tours of Israel and France.
     "It's going to be a terrible wrench for all of us after five years of close harmony," said Cliff; and a shocked Hank announced: "We're going to miss him very much as an integral part of the group, quite apart from our personal feelings. However, we hope his departure will not affect the group's popularity."
What group? For dyed-in-the-wool Shadowmaniacs, there would be only one of the original line-up left!
Hank himself had some doubts about suddenly becoming the group's leader, and he admitted: "It'll be a big responsibility for me to be solely in charge of the team, but I can always phone the office for Bruce's advice." 
To make matters worse, just as Shindig, their latest single, hit the Top Ten in mid-September, Licorice also announced that he, too, would be leaving in October, to pursue his religious calling.
Brian, who shared Licorice's faith, understood his motivation but told his friend, "the job had to be done…he couldn't turn up late just because he was talking to someone about the Bible…I told him that he'd have to do some soul-searching and come to a decision."
Bruce was now planning a new career looking after the companies of Cliff and The Shadows from behind a desk. He was understandably keen to find a bass player to replace Licorice, to which end he and Brian went to watch The Tony Meehan Combo, with a view to poaching Tony's bassist John Paul Jones! 
It was thought, however, that JPJ (later of Led Zeppelin!) didn't quite fit, and it was Bruce who then found the solution in the shape of John Rostill, an easy-to-work-with, good-looking lad from South London.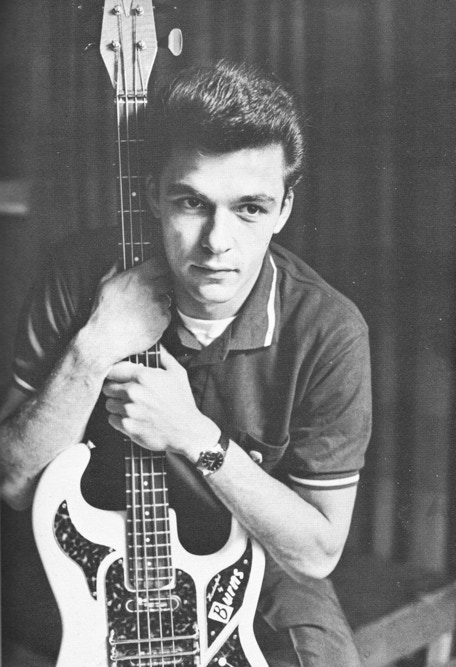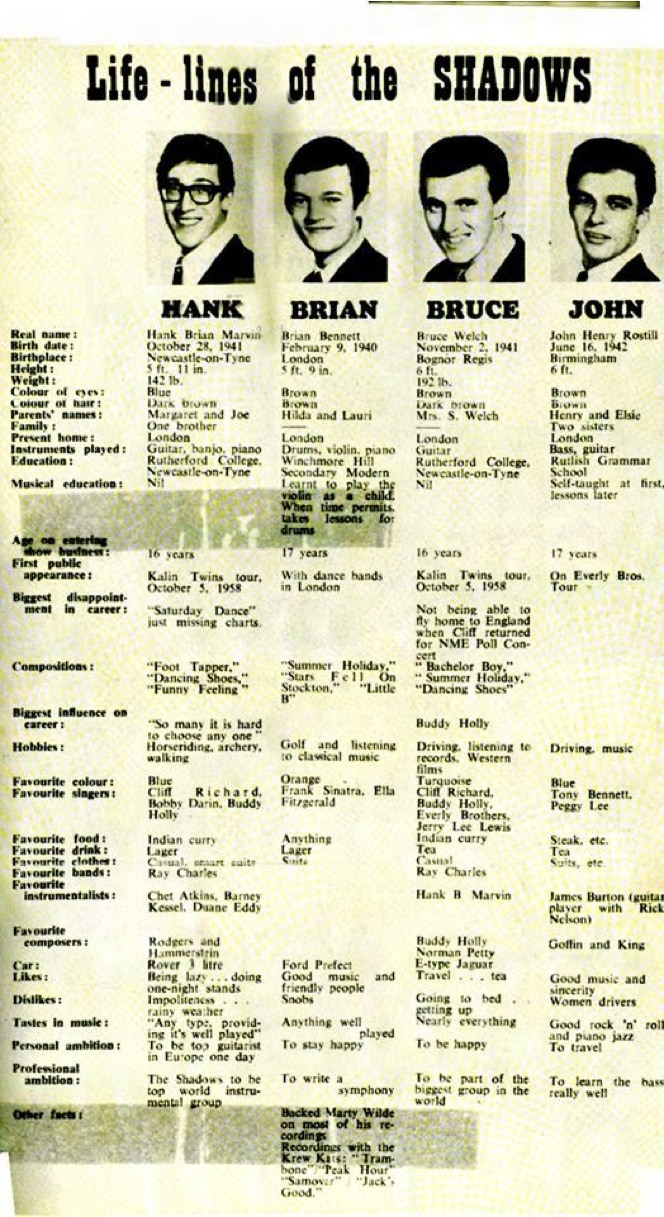 This ancient magazine cutting filled in the details. John, it seemed, was almost a local boy, having attended Rutlish Grammar School in nearby Wimbledon!
The tour of Israel and the knowledge that John would be there in the future seemed to save the day. Bruce decided that he didn't need to leave The Shadows after all!
Says Bruce: "I had a chance to relax and unwind while we were in Israel and I was considerably less irritable since the doctor had given me some pills to calm me down. Another good reason for staying was the deal I'd done with John Rostill to overcome my problems with the guitar – I paid him ten pounds a week to tune it for me before each performance!"
With John on board in December, The Shadows headed off to the Canary Islands, where they would be larking about on the set of Cliff's next movie, Wonderful Life. They felt more secure and comfortable again. "Suddenly," says Hank, "we didn't have to worry about how much money we spent. We could go into any restaurant and order anything we liked or walk into a men's outfitters and buy several suits at one time – we really felt we could do anything."
Hank and Bruce had each bought second cars, in Hank's case a Triumph TR4 that cost £1,000, and in Bruce's an E-type Jag. Now Hank and Brian also bought new houses.  
Everything looked rosy again for the Shads, at least, and their latest Single, the pacy Geronimo, composed by Hank, got to No.11. In my view, the B side, a delicious rendition of the well-loved Shazam, was even better. Note: Although you sometimes see pictures of John associated with this record, both sides still featured Licorice.
But, oh, dear me! Look what else was happening in the charts by Christmas! 
28th November – No. 1:  The Beatles, She Loves You
12th December – No 1: The Beatles, I Want To Hold Your Hand
After The Shadows' unbroken run of success at the top, the times, they were a-changing…and Beatlemania was on its way. Do I really need to remind you?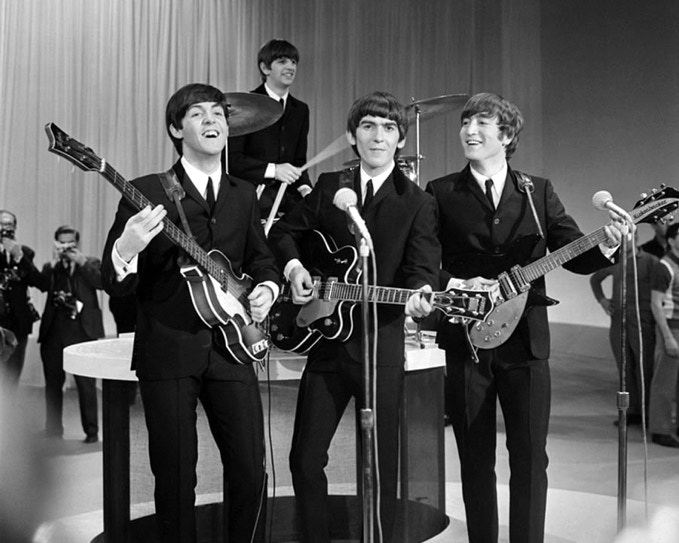 The Beatles - She Loves You
To quote Mr Dickens: "It was the best of times, it was the worst of times," So much success had brought some heart-ache to our stars. But for Shadowmaniacs 1963 was the Year of Years, a year and a half, an Annus Mirabilis to remember for ever. We had movies, chart-busters and No.1 hits, magazine and news cuttings, interviews, live shows, TV appearances and photos galore. I think if I had to choose the most joyous of my teenage years to relive over and over again (rather like Bill Murray in Groundhog Day), it would just have to be this one!
Jet Harris and Tony Meehan Diamonds video ( again)!
This web site doesn't save any cookies or any personal data. 
Google, however, will track which YouTube videos are played.
If you own the copyright to any content here and wish to receive credit or have it removed, please contact me and I will respond promptly.