Up Close And Personal
Our son Dan with his second guitar. He lent the Strat. to Teddy.
This great work is called Me and MY Shadows and it wouldn't be complete if I didn't talk a bit about the effect The Shadows have had on my life. This particular chapter is dedicated to Not Very Close Encounters of the Third Kind. Through thick and thin, and at some surprisingly significant moments, The Shadows have always been there.
Although my early bout of Shadowmania went a bit dormant after 1965, The Shadows continued to influence my days, sometimes in quite subtle ways, and played like an old familiar tune at the back of my mind. They influenced all of us, of course, the fans and the rock musicians who emulated them, and some would say the entire history of pop.    
Every Shadows' fan can tell you a story, but there must be some reason why my first boyfriend was tall, dark and handsome and wore specs! Indeed, there must be some deep, psychological explanation as to why I married a musician in a Rock 'n' Roll band; why my first son was named Daniel Joseph and the second Jon; why they all play guitar (and drums); and why my husband thought a drum-kit would be a really useful Wedding Anniversary present for me! I've been trying to learn the drum solo of Diamonds ever since…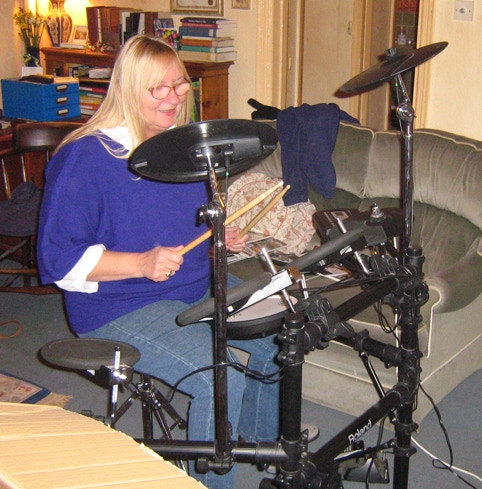 I'll spare you the soundtrack
The Shadows even helped me get my first teaching qualification and one of my first job offers. Oh, yes, they did! In order to gain a certificate as a teacher in those days, you had to complete two placements in schools near the university. My second was a term's teaching in a Girls' Secondary Modern School outside Southampton. Amongst others, I was given a lively class of 30 or more teenage girls who needed to improve their creative writing skills.
What could be a better topic than Make Up Your Own Rock And Roll Band? As I outlined the project – What do they look like? What do they wear? What are their favourite cars, music, colours? How old are they? What did they say in their interview with..? − a veritable tide of 14-year-olds surged towards me, practically snatching the file-paper out of my hand so that they could start work. They wrote dedicated volumes. I became Miss Popular of the Remove and was offered a job at the school before I'd even qualified!
By 1974 I was teaching English as a Foreign Language in Paris. What do you think I still had pinned to the wall? A poster, handmade by a friend, with a press cutting of The Shadows and, amazingly, a photo of Jet dressed as a bus-conductor! Here it is!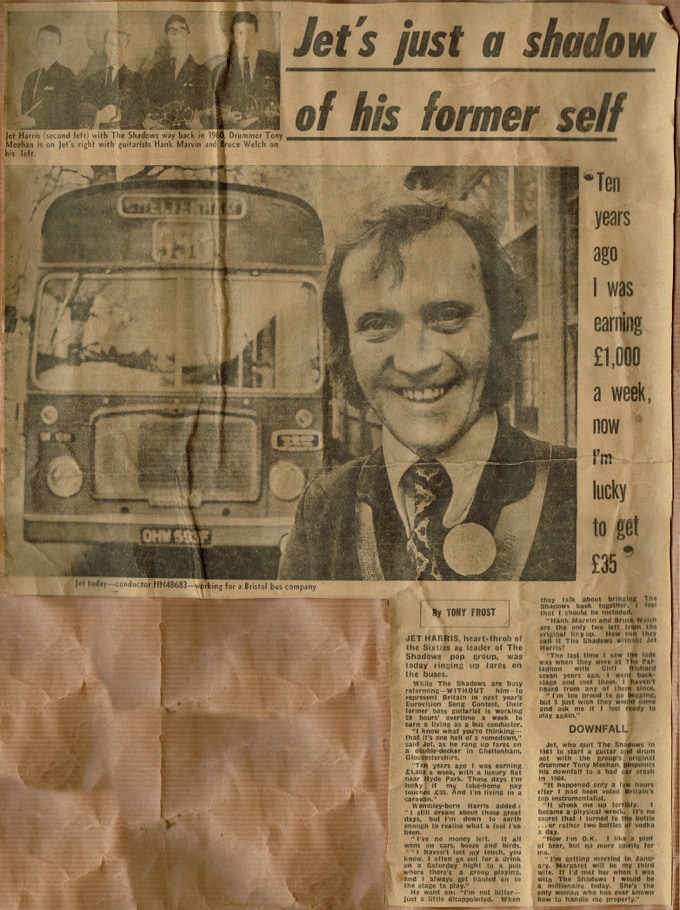 The following year I was back in England and giving, just before Christmas, a rather dull party that hardly anyone came to, because it was freezing fog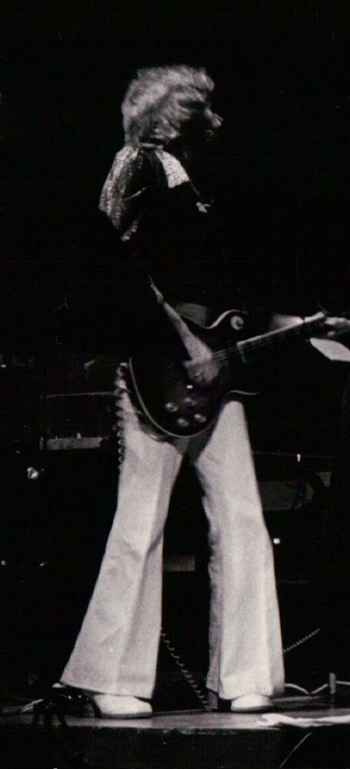 The totally wonderful and multi-talented Ron, later playing with Paddy O'Sullivan & The Pilgrim Band.
outside. Luckily, I found the Rock Band (that had just moved in downstairs) sitting on the landing outside my flat, all dressed to kill in their stage outfits and having a photo-shoot: so I invited them in, as you would.
Being musos, they pounced on my record collection and I feared mockery when the bass guitarist hoicked out my copy of THE SHADOWS LP. No such thing! We listened to The Shadows till about 2 a.m. Then we made pancakes; and a couple of years later, after a lot of gigs that I attended, packed into the back of the band-wagon with all of them, plus guitars, drums, amps and other girlfriends, I married the keyboards player of Swift Whippet, the totally wonderful and multi-talented Ron Colverson.
Just in time for our wedding in 1977, the Shadows released their No.1 album The Shadows: 20 Golden Greats and Decca issued a Remembering Jet and Tony LP, too. So there was no forgetting them then!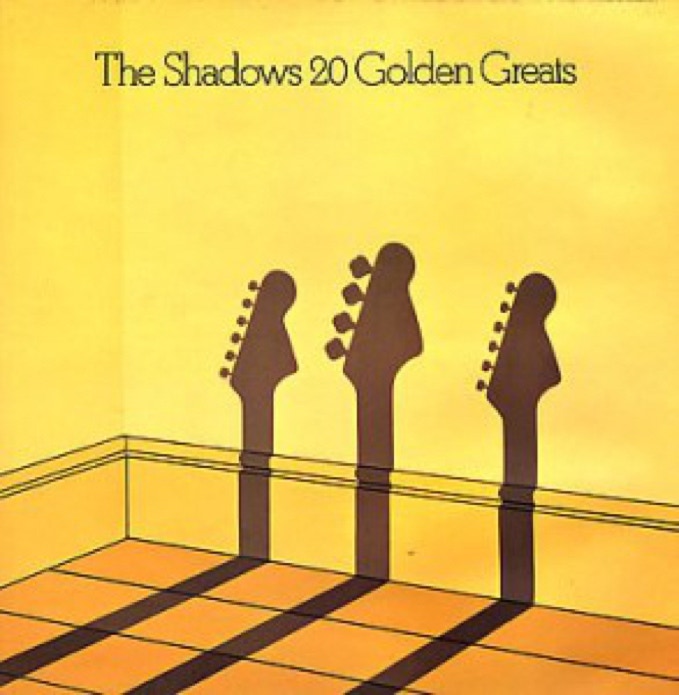 Three years later, when I gave up classroom teaching to have my first son, one of my pupils presented me with a carefully selected and fastidiously pirated tape of The Shadows' Greatest Hits. I was very touched by this but how did he know I liked them? I wonder…
Soon "What To Call The Baby?" was the big question of the day. We liked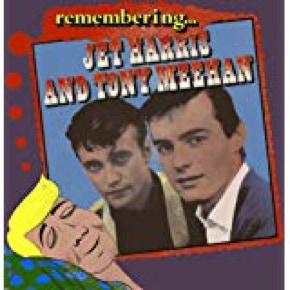 short Biblical names and drew up and debated a list that included Simon, Ben, Matthew and the like, but somehow the names Daniel and Joseph just kept coming to the top; and when we decided on those two names and in that order, I felt I should point out to Ron that they just happen to be Tony's actual first names, as well. So, named after Tony Meehan he was! The fact that our son Dan is now a musician and spends most of his time composing, arranging, playing and recording songs is neither here nor there… 
Dan's band is called 100% Cotton. My favourite of his many compositions is Me And You Tonight. You might like to visit Dan's website here.
In 1988, and by this time a teacher in Adult Literacy, I made a series of audio-tapes with which I planned to help non-readers get to the basics. It was nice but a bit dull, listening to me droning on, so the heroic Ron recorded his own version of my favourite Shadows' track Quatermasster's Stores to break up the text. One of my many Volunteer Tutors chirpily asked me if that was Hank Marvin playing. "Oh, no!" said I, with glee. "That's my husband!" Yeah, and I got made Head of an Adult Literacy Department on the strength of it, too!
In 1991 our dear friend Roy, bass-player and the principal song-writer for Swift Whippet, died suddenly, aged only 40, of a previously undiagnosed heart condition, tragically leaving behind his partner and twin baby girls. The funeral was already sad enough, you would have thought, but as Roy's coffin was carried out of the church to the strains of Wonderful Land, the entire congregation dissolved into uncontrolled sobs: everyone knew that Roy was a Shadows' fan and, especially, a Jet Harris fan, par excellence.
Roy, bass player and band leader of Swift Whippet
Then on a cold, dark night in 2004, Ron and Dan had sloped off to see Jeff Beck playing live at The Royal Albert Hall. When they came home, Dan said, "I've got something for you, Mum!" and handed me a scrap of lined exercise paper. It was a long time since 1964, but I said, "Son, this is Hank Marvin's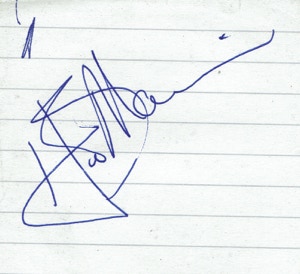 autograph! Where on earth did you get it?" It turned out that Hank and some other Shadows had been sitting in the box just behind Dan and Ron! This completes a trio of three generations of my family (so far) who have obtained Hank's autograph. Apparently, Dan looked up at the box so often to check that it was Hank, that when he got there, Hank said, "I thought you'd never ask!"
In 2008 I had to prepare a talk to other members of my class, who were studying New Religious Movements as part of an MA course in Biblical Studies at King's College London. Was it just coincidence that I elected to take the Jehovah's Witnesses as my subject? "You have all heard of Hank Marvin, haven't you?" I asked as I whisked out a picture of the same. I wondered vaguely at the time whether I could swing an interview with Hank to talk to him about his long-held religious views. If you would like to hear Hank on this topic, as well as talking to Gloria Hunniford about his career, and playing a new number with his son Ben, try here:
Hank talks about his faith to Gloria Hunniford
Then in 2009 Cliff and The Shadows made their phenomenal Final Reunion Tour and released their completely wonderful last (?) Single together. I saw them at The O2 arena and I haven't got over it yet!
Cliff and The Shadows  - Singing the Blues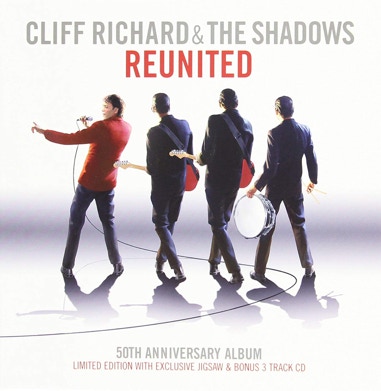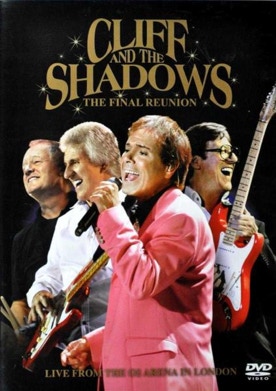 I've got to tell you that I now take my scrap of paper with Hank's autograph everywhere with me, tucked in with my driver's licence. "Well," as I explained to a nurse at the Royal Marsden Hospital, where I was having a life-saving operation, "I might die and go to Heaven. And you never know − when you get there they might let you make one phone-call…"
In fact, this latest bout of Shadowmania kicked off in February 2017 and coincided precisely with the fact that I was being diagnosed with cancer. Ron had just decided to complete his (vast) collection of instruments, by buying an electric bass guitar. As it came out of the box, I took one look at it and said, "Can you play Diamonds?" And, funnily enough, he could! Really, I've no idea why I married this man, but off I went again, straight down Memory Lane, with this book as the result.
Listening on an iPod to Cliff, The Shadows, Jet and Tony got me through endless waiting rooms and medical appointments, a major operation, chemotherapy, radiotherapy and all the rest. When I came round from the op. in intensive care, the first words I said (allegedly) were: "I want to see a picture of Tony Meehan! NOW!" Luckily, there was one just beside me in my handbag. So Shadowmania it is, all over again… When the nurse asked me, at form-filling time, what my hobbies and interests were, she listened for a while and said, "Shall I just put Music?"
Yes, just put Music, if you like, but for our 40th Wedding Anniversary in May my husband did give me a drum-kit; and here I am, aged 70, still mad as a coot, outside Tony's former London flat in summer 2018, having my picture took next to his Blue Plaque.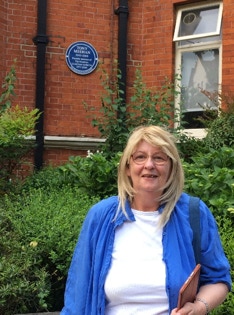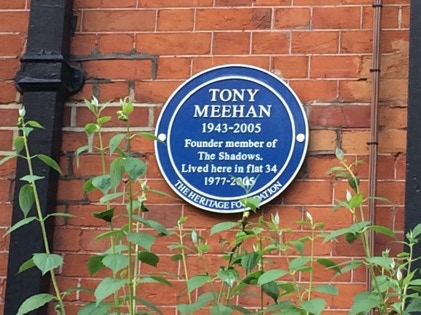 Still Crazy … The Author, Chris Colverson, visiting the site of Tony's Blue Plaque, June 2018
In February 2018 I thought I could rationalise it all by writing this book and I've been at it ever after. It has been an absolute joy to research and assemble these pages. I suspect, in fact, I know that other Shadowmaniacs everywhere will understand this tribute to the music that has shaped (could we say?) so much of my life and given me such delight over the years. Take Christmas 2017: 3 copies of Diamonds, a Shadows' album that I've never seen before and a signed Jet Harris CD. Now, that's what I call Christmas!
So, now you've read it, would you like me to sign your copy of my book? Well, it's a website ebook - a multi-media, digital whatsit thingy: so I'm not very likely to meet you at a book-signing and give you an autograph, am I? All I can say is, I hope you flipping enjoyed it!
All the best!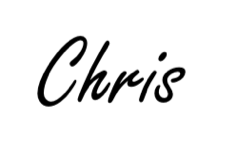 This web site doesn't save any cookies or any personal data. 
Google, however, will track which YouTube videos are played.
If you own the copyright to any content here and wish to receive credit or have it removed, please contact me and I will respond promptly.