1965 – 1968
According to Bruce, these times were less and less fulfilling for The Shadows. These telling words are from his 1989 book Rock 'n' Roll − I Gave You the Best Years of my Life: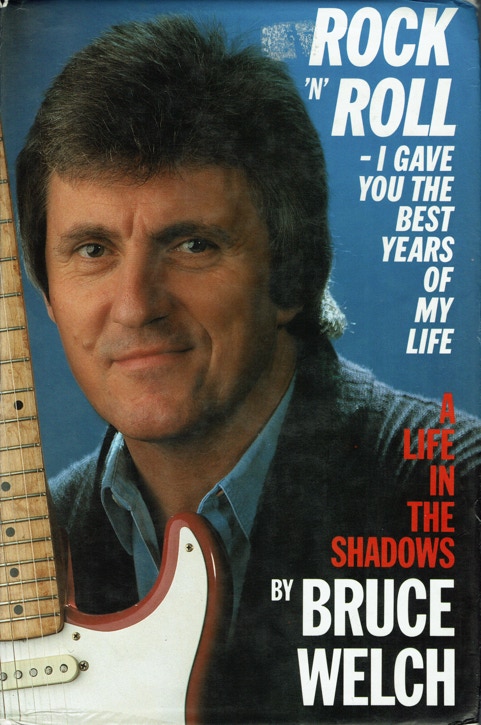 "Over the next few years we worked steadily – the pattern was very similar. We were cocooned in show business, as far away from Rock 'n' Roll as you could get, but we didn't miss it. We'd grown up this way, writing, recording, touring, appearing on television…it was a way of life. We had become family entertainers without even trying."
The pantomime Aladdin (which more or less put paid to my first bout of Shadowmania) went on far too long, from December 22nd 1964 to April 1965. They were playing two shows a day. Says Bruce: "The first show went on at 2.45p.m., and the final curtain fell at 11p.m. We were at the Palladium for ten hours a day, six days a week, so any recording had to be slotted in in the mornings. It was so inhibiting, and it became too much like a proper job."  
For much of 1965, though, The Shadows were occupied by writing or recording. In March they released an EP consisting of numbers from the pantomime: Themes from Aladdin, and there were four new Singles: Mary Anne in February, Stingray in June, Don't Make My Baby Blue in August and The War Lord in November. There were a new LP The Sound of The Shadows in July and another compilation album More Hits in December.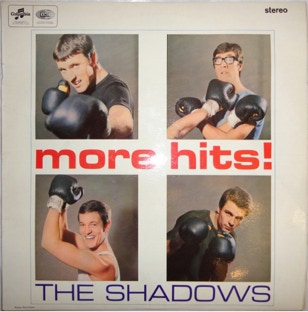 In August 1965 the Shads also accompanied Cliff on his new Single, The Time In Between. They made a lightning tour with Cliff in July, visiting France Spain and Switzerland. "Almost continuously," notes The Pocket Guide, "from July through to October they joined Cliff on tours worldwide and in concert/TV appearances at home, while on 27th November the group topped the bill over the Beatles on ITV's Thank Your Lucky Stars."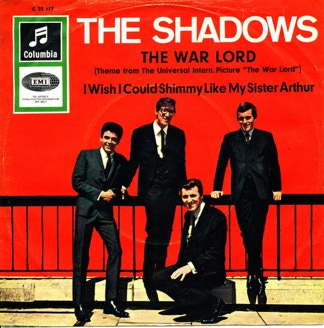 Although they turned down acting parts with Frank Ifield in the London Palladium 1965 pantomime, Babes in the Wood, they wrote the score. Bruce is quoted as saying, "We write and compose from 10a.m. to 5p.m. most days. The charts are nice but we don't need them like we used to…"  
All four of the 1965 Singles made the Top Twenty. Most notable, from my point of view, were Stingray and The War Lord.
I think these were the last two Shadows' Singles I bought before I disappeared off to university in 1966, with my Bob Dylan LP underneath my arm. Not having a TV or reading NME for four years meant I really lost touch with them.
By 1966, although they were still in the Singles charts either on their own or with Cliff for 38 weeks of the year, their positions had begun to slip. The last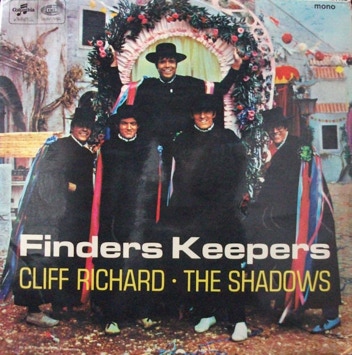 Cliff Richard and The Shadows - Time Drags By
movie The Shadows made with Cliff was Finders Keepers. It was released on 8th December and the LP of the soundtrack, which had been recorded in May 1965 and April – September 1966, got to No.6 in the UK album charts. The hit Single from the album, composed by Hank, Bruce, Brian and John, was Time Drags By, which reached No.10 in October. For this song they received an Ivor Novello award and, amazing to 
relate, harmonica on this track was played by Jimmy Page (of the Yardbirds! and later Led Zeppelin). 
Urgent personal business took up a lot of time in 1966. On the set of Finders Keepers, Hank had met dancer Carole Naylor, who was to become his second wife; and in September Bruce fell head over heels in love with Olivia Newton-John. 
By the end of the year, all that notwithstanding, The Shadows had written the score for the next Palladium pantomime, which was Cinderella, and starred Cliff as "Buttons" and the Shads as "Baron Stoneybroke's Men". The hit Single from that was Cliff's In The Country, which still took them all to No.6.
I'm including these two records here because I came to know and like them, but by the time Cliff and The Shadows featured as puppets in the movie Thunderbirds Are Go! they were all well off my radar.
Cliff & The Shadows - Thunderbirds Are Go
The Shadows' last chart Single from this period was Maroc 7, released in April 1967. As noted in The Pocket Guide, "This was The Shadows' twenty-fifth successive chart entry, but it was to be their last for almost eight years." 
Interestingly enough, Jet Harris and Tony Meehan surfaced again in 1967. There was a flurry of publicity when Jet, sporting a new hairstyle, made an attempted comeback on the Fontana label with Tony as record producer and co-manager. 
Jet's Single My Lady/You Don't Live Twice was recorded with a 14-piece orchestra on 15th June and released in July. I would have almost certainly bought this for old times' sake, had I known about it, but as Dave Nicolson notes, even though it got to No.22,  "…it vanished without trace".
Tony also came back into The Shadows' lives in 1968, when at the beginning of the year they were headlining at The Talk of the Town in London. Says Bruce: "It was an incredible season for us, because we had no less than three different line-ups during the engagement." John Rostill collapsed from nervous and mental exhaustion midway through, and Licorice Locking was asked to replace him. Then Brian Bennett was rushed into hospital with appendicitis and Tony Meehan stepped in for the last week! "It was good working with him again," says Bruce.
Here you can see a video of the scene. I wish I'd been there, but it doesn't look very Happy Bunnies, does it?
Tony Meehan playing with The Shadows in 1968
"By 1968," reflects Bruce, "relationships within the group were becoming extremely strained. It amazes me that people expect four guys to work together, play together and virtually live in each other's pockets − and still be the best of pals all the time, and behave like brothers. We had been working together now almost non-stop for nearly ten years, touring the world without let-up. We were on a treadmill of tours, recording session, live engagements, TV work…and so it went on, year after year. Although we were established as an international act, the domestic hits slowly came to an end."
In December 1968 The Shadows disbanded, after yet another row on the touchy subject of punctuality.
This time it wasn't just Bruce, but also John Rostill who blew his top. John was still in the habit of tuning Bruce's guitars before a show and would arrive an hour early in order to be able to do so. When Hank arrived, usually followed by Brian and Bruce, they would have a final "tune-up".
But, says Bruce, on the night they played The Talk of the North night-club in Eccles, John was left alone in the dressing-room, getting more and more annoyed, until Bruce and Brian turned up already dressed in their tuxedos at 11.15, ready to go on stage at 11.30! They told the (by then) furious John that they'd thought Hank was already there. When Hank finally did breeze in, with just five minutes to spare before "curtain up", and cheerfully said, "Give us a 'D', John!" the latter just exploded and the fur started flying. Bruce thought it would come to blows. According to him, "Even Brian, who never caused any trouble or aggression and was always one for shrugging things off, muttered, 'You should really have been here, Hank.'"
Hank burst into tears, a sight that Bruce had never seen before. With a few choice phrases, Bruce fled back to his Rolls Royce, which was parked outside, saying he was going home.
"I just broke down," says Hank. "Bruce was about to run out on us, John had got it in for me and my fuse just went. I ran out of the building and gulped in a mouthful of cold Lancashire air. I went back in ten minutes later having regained my composure a bit, to find Olivia had persuaded Bruce not to go home, as we'd got a job to do and a contract to fulfil. As far as I was concerned it was all over that night."
An uneasy peace meant that they could still perform, starting the show half an hour late but, says Bruce, "The tension on stage was unbearable, with each of us watching the other." He also made up his mind to leave.
It was Bruce who suggested that they should complete their run at the world-famous London Palladium with Cliff before they split up.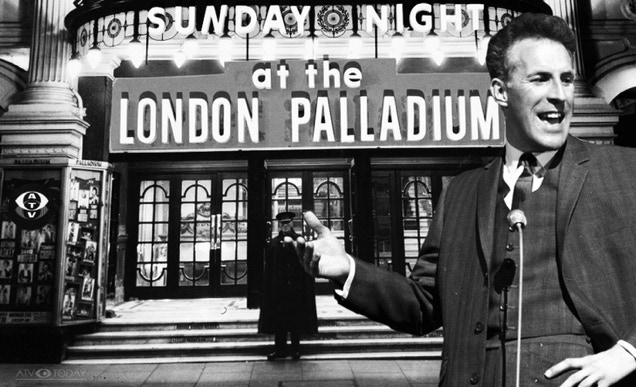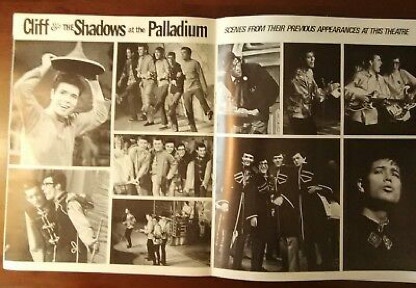 Their last performance was on Saturday 14th December 1968. At the end of the show, for reasons we can only imagine, Hank presented Bruce with an engraved clock…
Cliff Richard and The Shadows had more Top Ten Hits between them than The Beatles, The Rolling Stones, Abba, Status Quo or Rod Stewart.  But that was the end of The Shadows, wasn't it?
No! Of course it wasn't! Now read on…
Apache - from The Shadows Final Tour
This web site doesn't save any cookies or any personal data. 
Google, however, will track which YouTube videos are played.
If you own the copyright to any content here and wish to receive credit or have it removed, please contact me and I will respond promptly.